C9 ACERT™ Well Servicing Hazpak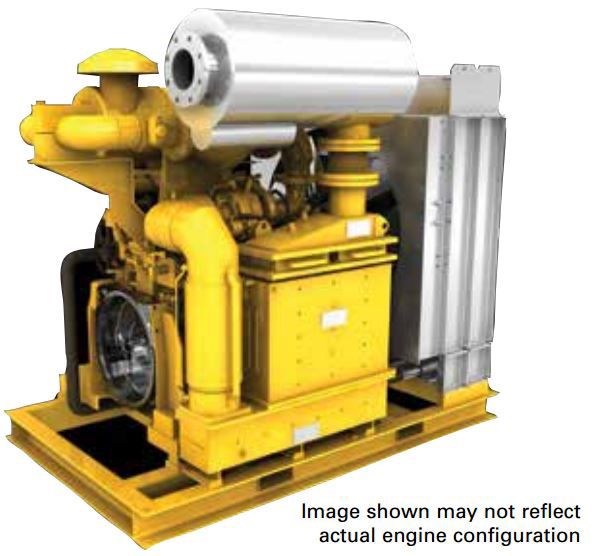 C9 ACERT™ Well Servicing Hazpak
When the job takes you into a hazardous location, Cat® HazPak engines are ready. Our complete range of services and engine packages cover both industry standards and your operation with maximum safety.Cat C9 ACERT HazPaks are hazardous location power units that are the ideal solution for specialized and demanding operations in the oilfield. Units are hazardous-location certified from the factory to minimize installation design, time, and cost. HazPaks are certified to operate in potentially explosive environments.Cat hazpaks are backed by the worldwide network of Cat dealers ready to support your operation with technical support, service, parts, and warranty.Cat C9 ACERT HazPak. Rating: 254 bkW (340 bhp) @ 2200 rpm.
Package Specifications
Minimum Rating

340BHP

Maximum Rating

340BHP

Peak Torque - Speed

1450 N•m (1469 lb-ft) @ 1450 rpm

Displacement

537.96in³

Aspiration

Turbocharged-Aftercooled

Governor and Protection

Electronic ADEM™ A4

Weight - Net Dry - Approximate

5095lb

Oil Change Interval

250 hours

Rotation from Flywheel End

Counterclockwise

Flywheel and Flywheel Housing

SAE No. 1 or 2

Stroke

5.9in

Bore

4.3in

Flywheel Teeth

113 (SAE 1), 134 (SAE 2)

Emissions

EPA & CARB Non-Road Tier 3, EU Stage IIIA, EPA Marine Tier 2, IMO II
Capacity for Liquids
Cooling System

94qt (US)

Lube Oil System - Refill

36qt (US)
Equipment
Air Inlet System

Dry-type two-element air filter with restriction indicator, separate circuit aftercooler with ATEX approved air shutoff valve, inlet flame arrestor

Control System

Industry-standard ADEM A4 control system, inlet air shutoff valve for integration with supervisory safety system, electronic governing, programmable ratings, automatic altitude compensation, power compensation for fuel temperature, electronic diagnostics and fault logging, engine monitoring and protection system (speeds, temperature, pressure), J1939 broadcast (diagnostic, engine status and control), wiring suitable for ATEX Zone 2 areas

Cooling System

Separate circuit aftercooler; thermostat and housing; geardriven jacket water and aftercooler pumps

Exhaust System

Exhaust gas cooler, plenum, and outlet box assembly; ATEX compliant – designed to limit the exhaust gas and exhaust duct surface temperatures to T3 (200°C); exhaust gas flametraps suitable for Gas Group IIA; designed and tested in accordance with the recommendations of EN 1834-1; wet and dry exhaust flexibles; ship-loose ATEX-compliant spark arresting muffler

Flywheels And Flywheel Housing

SAE No. 1 cast iron housing, industrial-style flywheel for SAE-1 housing, provides LH starter bore location

Fuel System

Electronic injection, upward-angled fuel priming pump,fuel transfer pump, fuel sample valve mounted on filter base

General

Package ambient capability is -20°C to 45°C, mechanical systems are designed for Gas Group IIA; electrical systems are designed for Gas Group IIC; all systems meet temperature class T3 (200°C limit); includes a declaration of conformity for the entire package scope; radiator package, engine, and exhaust system fitted to sub-frame; air filter, fuel/water separator, remote oil filter installed and mounted; earth bonding per standard EN 60079-14

Lube System

Oil cooler, 64L oil pan, LH front oil fill, remote mount filter kit, LH filter and gauge access, sample valve mounted on filter base
Optional Equipment
Air Compressor

belt-driven, two-cylinder, single-stage, reciprocating with a rated displacement of 13.2 cfm at 1250 rpm compressor speed; includes two environmental drains

Charging System

24V 35A EX d ATEX compliant alternator for Gas Group IIb, temperature class T3; heavy-duty, brushless; 24V 65A alternator, NEC 500 Class 1 Division 2 for Gas Groups C&D, temperature Class T3; heavy-duty, brushless; 24V 55Ah EX d e II T4 increased safety deep discharge battery pack with integral junction box and isolator switch.

Control System

Air, electric, or hydraulic shutdown system input options available
Throttle knob speed control – shipped loose if no control panel option selected; ATEX approved 24V operation; twist knob, locking design; 2-turns, low to high speed; CCW rotation to increase engine speed, push in or turn CW to return to low idle
Messenger display – shipped loose if no control panel option selected; electronic display unit for monitoring key engine operation data and diagnostic information on a full graphic LCD screen; four select buttons to scroll through the engine data and diagnostic screens and navigate through the display configuration menu to change display settings; connection to the engine control module is via the J1939 CAN data link
PCS2 control board – provides supervisory safety system functionality and overspeed shutdown control; includes start button, run/stop switch, emergency stop button, mounting locations for throttle control and messenger display
3GP control panel – provides gas detection, supervisory safety system functionality, and overspeed shutdown control; allows operation without exhaust flame traps; includes start button, run/stop switch, emergency stop button, mounting locations for throttle control and messenger display; provides control panel for engine with up to 20 inputs and outputs; designed to give automatic shutdown in the event of engine overspeed, high exhaust gas temperature (200°C), high coolant temperature (100°C), low oil pressure, detection of hydrocarbon gas; additional I/O pressure and temp input switches available on request.

Fuel System

Fuel cooler, installed, maintains acceptable fuel temperature when running from day tank

Starting System

Air and hydraulic starters available
Interested In This Product?