3512E Tier 4 Final Well Service Engine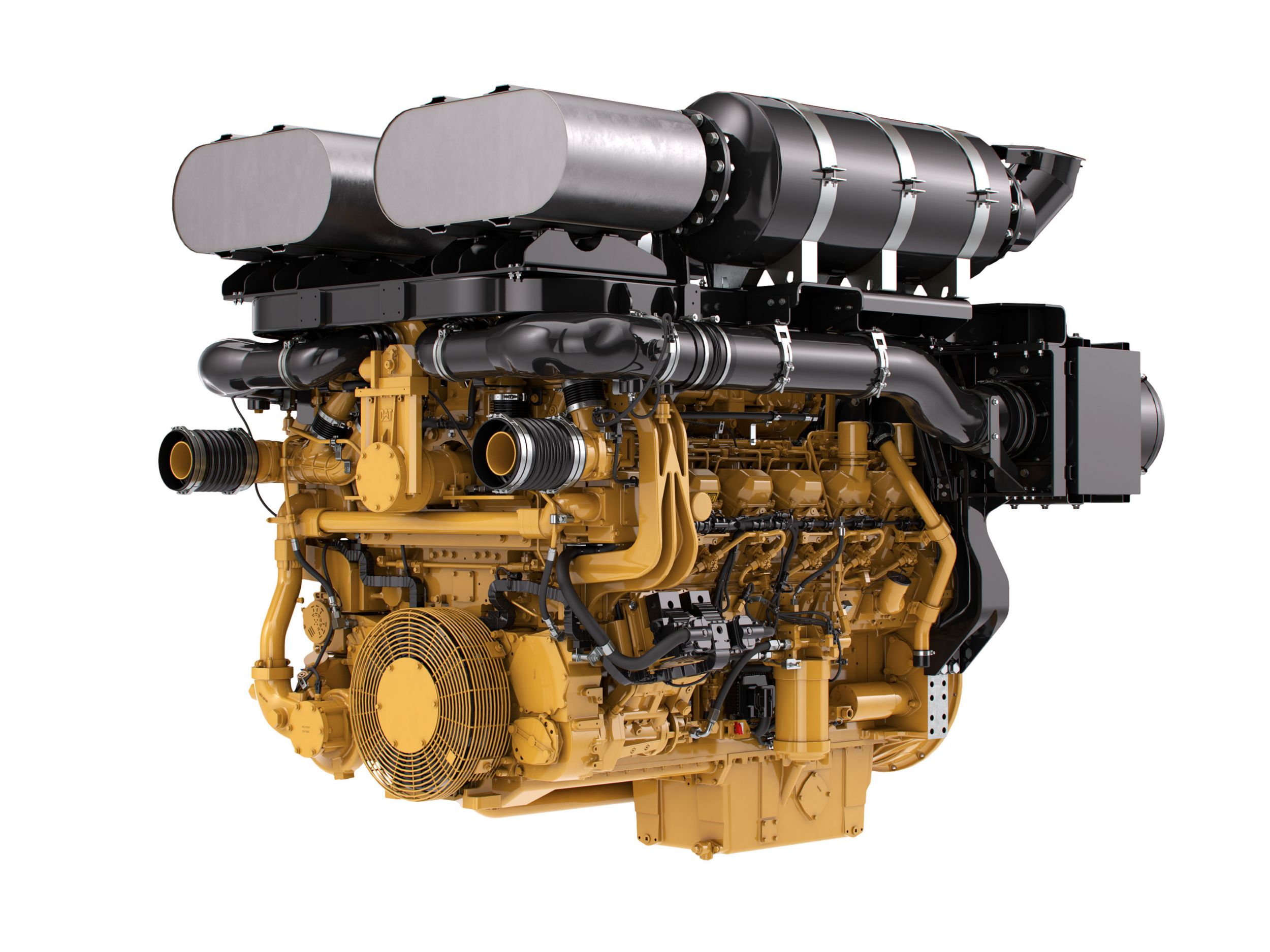 3512E Tier 4 Final Well Service Engine
Well stimulation operations in the oilfield are complex and demanding. The 3512E Tier 4 Final engine for well service operations was specifically developed to meet Tier 4 Final emissions and to meet the highest standards in performance, durability, and reliability. Cat engines are backed by the worldwide network of Cat dealers ready to support your operation with technical support, service, parts, and warranty. 3512E engines, with ratings: 1678-1864 bkW (2250-2500 bhp) @ 1800 rpm meet U.S. EPA Non-road Mobile Tier 4 final emission standards.
Learn More About This Piece of Equipment
Dimensions
Weight

15793lb

Height

104in

Width

90.9in

Length

123in
General Specifications
Minimum Rating

2250BHP

Maximum Rating

2500BHP

Aspiration

Turbocharged-Aftercooled

Displacement

3596in³

Flywheel and Flywheel Housing

SAE No. 0

Flywheel Teeth

151

Stroke

8.5in

Bore

6.7in
Emissions
Emissions

Non-Road Mobile EPA Tier 4 Final
Equipment
Air Inlet System

Air-to-air aftercooled
Air cleaners (single element w/service indicator)

Control System

ADEM A4 ECU, LH
With electronic fuel injector fuel system (10 amp DC power required to drive electronic engine control module)

Cooling System

ATAAC
Thermostats and housing, jacket water pump, gear-driven centrifugal (gear-driven centrifugal pumps)

Exhaust System

Land Well Service Engine:
Offshore Well Service Engine:

Flywheels & Flywheel Housing

Flywheel, SAE No. 0, 151 teeth

Fuel System

Secondary/tertiary fuel filters
Fuel priming pump (electric)
Common rail fuel system
Fuel transfer pump

Lube System

Crankcase breather — top-mounted
Electric prelube
Fumes disposal
Oil cooler
Oil filler and dipstick — LH
Oil pump
Oil filter — RH spin-on type
Rear sump oil pan, 250-hour change interval
Oil pan drain valve, 1" NPT female connection
Oil scavenger pump

Mounting System

Power Take-offs

Accessory drive -- Lower LH/upper RH
Front housing, two-sided

Protection System

ADEM A4 ECU system to provide customer programmable engine deration strategies to protect against adverse operating conditions
Emergency stop logic inputs provided at 40-pin customer interface connection
Dual Air inlet shutoff
Oil pressure monitor

General

Paint, Cat yellow
Vibration damper and guard
Lifting eyes
Hydraulic valve lash adjusters
Power link engine monitoring
Optional Equipment
Air Inlet System

Optional heavy-duty air cleaners (dual element/service indicator with precleaners)
Four front-mounted turbochargers

Charging System

Control System

Throttle position sensors
Local speed throttle control
Governor conversion
Variable speed radiator fan control

Cooling System

Coolant regulator conversion
Water level switch gauge
Coolant level sensors and coolant conditioner
External transmission cooler connections
Variable speed hydraulic fan pump

Emissions Certifications

Exhaust System

Flexible exhaust fitting
Elbows, flange, bellows, rain caps
Industrial and residential mufflers (painted steel and stainless steel)

Fuel Systems

Flexible fuel lines
Primary fuel filter/fuel water separator

Instrumentation

Remote panel display and remote cylinder temperature display

Lube System

500- hour deep sump oil pan (rear sump pan)

Power Take-offs

Flywheel stub shaft
Front Crankshaft Adapter

Protection System

Starting System

Hydraulic starter
Hydraulic starter - RH
Dual hydraulic starter - LHR
Manual engine barring device

General

Air compressor
Aftertreatment support package
Interested In This Product?