6CM34DF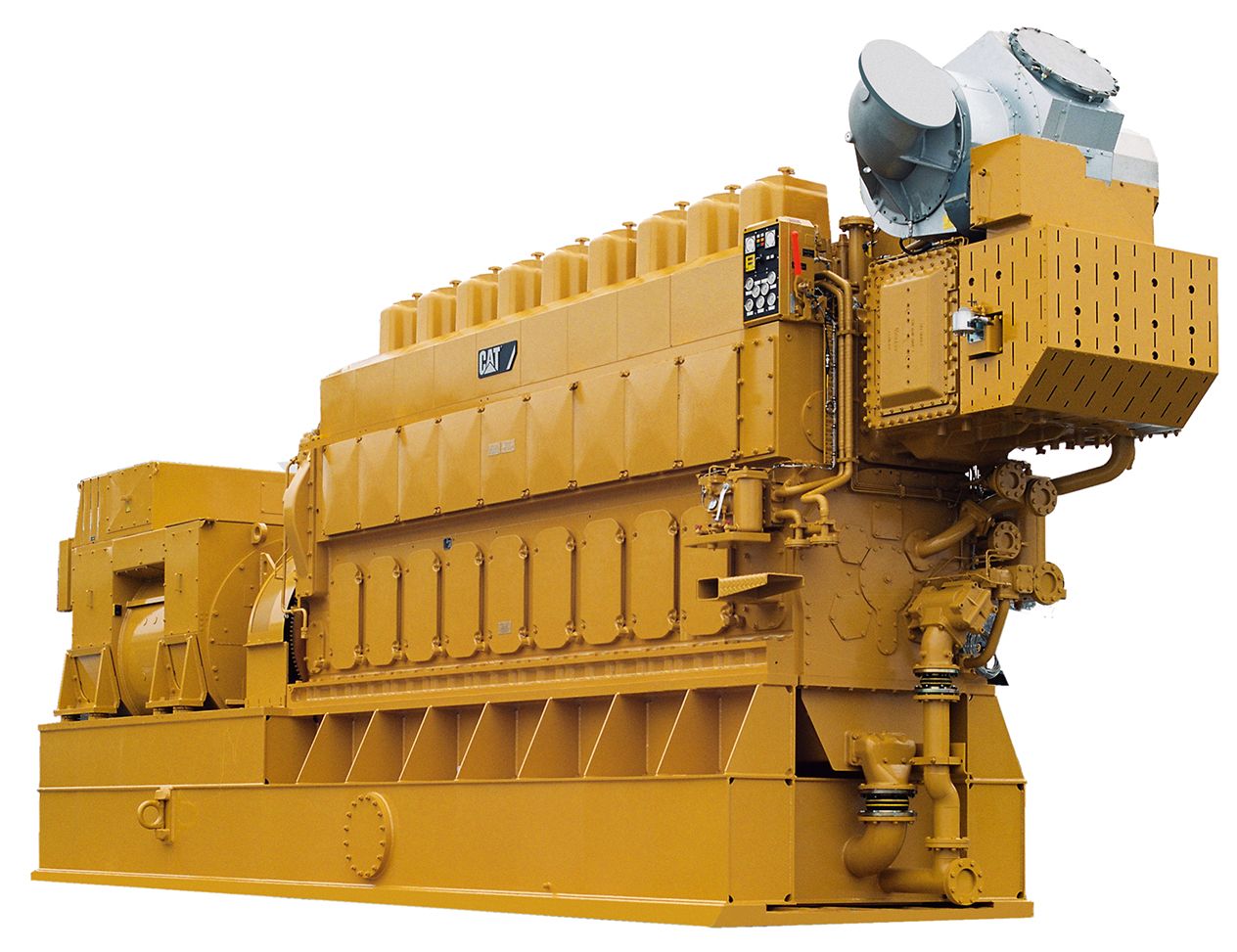 6CM34DF
The 6CM34DF generator set is based on the successful CM32C medium speed engine. Caterpillar Motoren designed the CM34DF to meet and exceed the CM32C reliability and lifetime expectations, while maintaining its class leading position regarding operational efficiency and reliability. The CM34DF is an ideal solution as main power for offshore production platforms and top sides. The CM34DF clean design allows fast and easy access to system and components, supporting the operation, service and maintenance simplicity. Designed to operate on gaseous fuel with methane numbers down to MN 50 and liquid fuels as MGO, MDO, heavy fuels and crude oil. The CM34DF is certified to IMO Tier II standards and meets proposed IMO Tier III emissions levels while operating in gas mode. Care and attention was paid to customers demand for a safe and reliable operation at varying engine loads and gas qualities.
Engine Specifications
Weight

128000lb

Stroke

18.1in

Speed - 60 Hz

720 rpm

Speed - 50 Hz

750 rpm

Engine Control

Electronic

Displacement

15317in³

Bore

13.39in

Aspiration

Turbocharged Aftercooler

Minimum Rating

3600kV·A

Maximum Rating

3600kV·A

Emissions

IMO Tier II
Dimensions
Width

103.9in

Length

359.4in

Height

207.7in
Equipment
Engine

Motor-driven barring gear, fitted on engine
Emergency shutdown equipment with pushbutton for manual emergency stop
Fuel injector and integrated gas admission valve with easy service and maintenance access
Cylinder pressure sensors for highest operational reliability and efficiency, replacing conventional knocking sensor technology
Piston, rings and liners designed for operation on gas and liquid fuels

Turbo Charger

Optimized engine efficiency in gas and diesel operation
Blow-off valve and waste gate technology for optimized air-fuel ratio control

Gas System

Double-walled gas piping to support an inherently safe engine room concept
Leakage detection
Gas valve unit
Segmented gas detection system on request

Micro Pilot Fuel Injection System

Gear driven high pressure fuel pump and filter system with easy service access
Reliability combined with service and maintenance simplicity, through individual ignition fuel injector and "in-cylinder head" integrated ignition fuel return pipes.

Exhaust System

Front-mounted turbocharger at free end with transition nozzle, (0 degrees from the vertical and away from engine), with compressor cleaning device.
Expansion joint separate
Separate silencer and spark arrester

Fresh Cooling Water System

HT pump, fitted on engine
LT pump, separate, vertical design, electric motor driven
HT thermostat, remote-mounted, electric controlled
Cooling water preheating equipment, fitted on base frame

Lubricating Oil System

Plate cooler, fitted on engine
Force pump, fitted on engine
Pre-lubrication pump, fitted on base frame, electric motor driven
Automatic back-flushing filter
Duplex filter with differential pressure indication, fitted on engine
Pressure control valve, fitted on engine
Thermostat, remote-mounted, electric controlled

Connections

Set of connecting parts between flange coupling and flywheel
Flexible flange coupling between engine and generator
Base frame with flywheel guard and incorporating lube oil sump tank, for engine and generator
Mounting of engine and generator on the base frame
Set of bonded rubber rails for resilient mounting of the base frame
Set of flexible pipe connections

Instrumentation

Gauge board with liquid-dampened pressure gauges for: fuel, lubricating oil, fresh water, starting air and charge air.
On-engine thermometers for fuel, lubricating oil, fresh water and charge air
Electric remote speed indicator
Turbocharger and remote speed indicator
Exhaust gas temperature indicator

Monitoring

Manual control on engine, including: control panel with start/stop key, speed setting device, mechanical shutdown device, changeover of control functions from engine to remote control
Starting solenoid valve on engine, 24 V DC
Separate electronic speed governor
Interested In This Product?