C1.5 Marine Generator Set Engine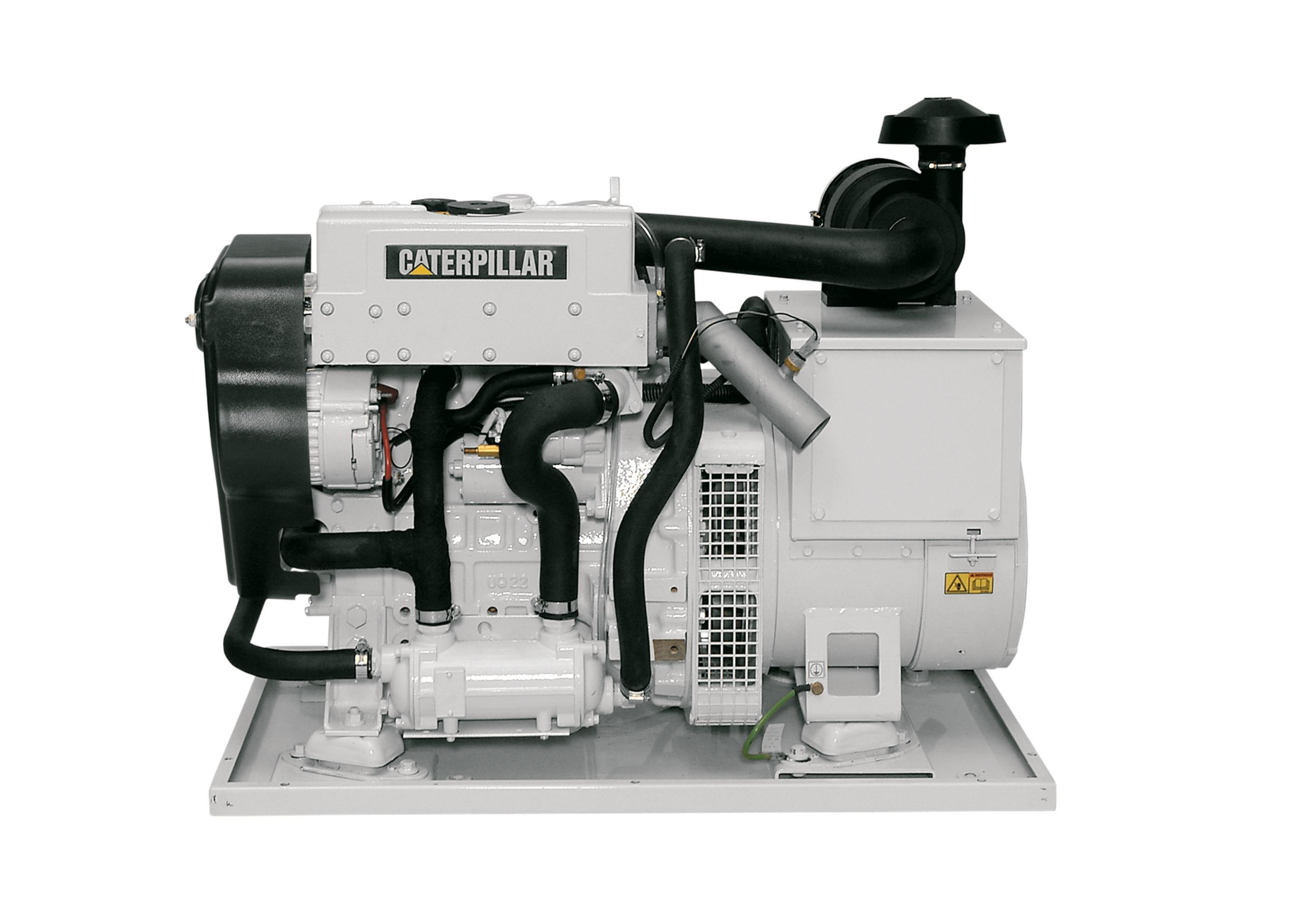 C1.5 Marine Generator Set Engine
Cat® C1.5 Diesel Marine Generator Set has single phase ratings of 50 Hertz at 10.0 ekW and 60 Hertz at 12.0 ekW that meet U.S. EPA Tier 3 and EU IW emission standards. The Cat® C1.5 also has three phase ratings of 50 Hertz at 11.0 ekW and 60 Hertz at 13.0 ekW that meet U.S. EPA Tier 3 and EU IW emissions standards. This generator set is available in 12 or 24 volt as an open gen set or as an enclosed package.
Engine Specifications
Governor Type

Electrical Isochronous

Displacement

91in³

Stroke

3.5in

Bore

3.31in

Aspiration

Naturally Aspirated

Engine Model

C1.5, In-line 3, 4-Stroke-Cycle-Diesel
Generator Set Specifications
Speed

1500 rpm (50Hz) or 1800 rpm (60 Hz)

Frequency

50 Hz or 60 Hz

Maximum Rating

13 ekW (16.5 kVA)

Minimum Rating

10 ekW (10 kVA)
Generator Set Configurations
Emissions/Fuel Strategy

60 Hz meets EPA Tier 3*, 50 Hz meets EU 97/68EC Stage II regulations
Generator Specifications
Frame Size

1.5

Excitation

AREP

Insulation

Class H

Voltage Regulation

±0.5%
Generator Set Dimensions
Length

37.4 in/962 mm (open), 40 in/1021 mm (enclosed)

Weight

319 kg/703 lbs (open), 368 kg/811 lbs (enclosed)

Height

27.5 in/699 mm (open), 28 in/710 mm (enclosed)

Width

21 in/533 mm (open), 24 in/608 mm (enclosed)
Equipment
Air Inlet System

Air cleaner, single element canister type with rain cap (open generator set only)

Control System

Electronic isochronous governor

Cooling System

Belt-driven centrifugal jacket water pump
gear-driven seawater pump
heat exchanger with copper nickel tubes
expansion tank

Exhaust System

Watercooled exhaust manifold and elbow

Fuel System

Fuel filter — RH or LH service
fuel priming
fuel transfer pump
flexible fuel lines

Generator

Lube System

Lubricating oil
oil filter (RH)
dipstick (RH)
fumes disposal (closed system)

Mounting System

Anti-vibration mounts, connected to drip tray and steel base sitting on PVC foam sound-absorbent pad

Protection System

Electronic automatic safety shutdown for low oil pressure, high water temperature, high exhaust (wet exhaust only) temperature, and overspeed

Starting System

12 or 24 volt electronic starting motor, 12 volt 55 amp alternator

General

Single-side service (RH), decals, literature
Interested In This Product?