C9 ACERT™ High Performance Marine Propulsion Engine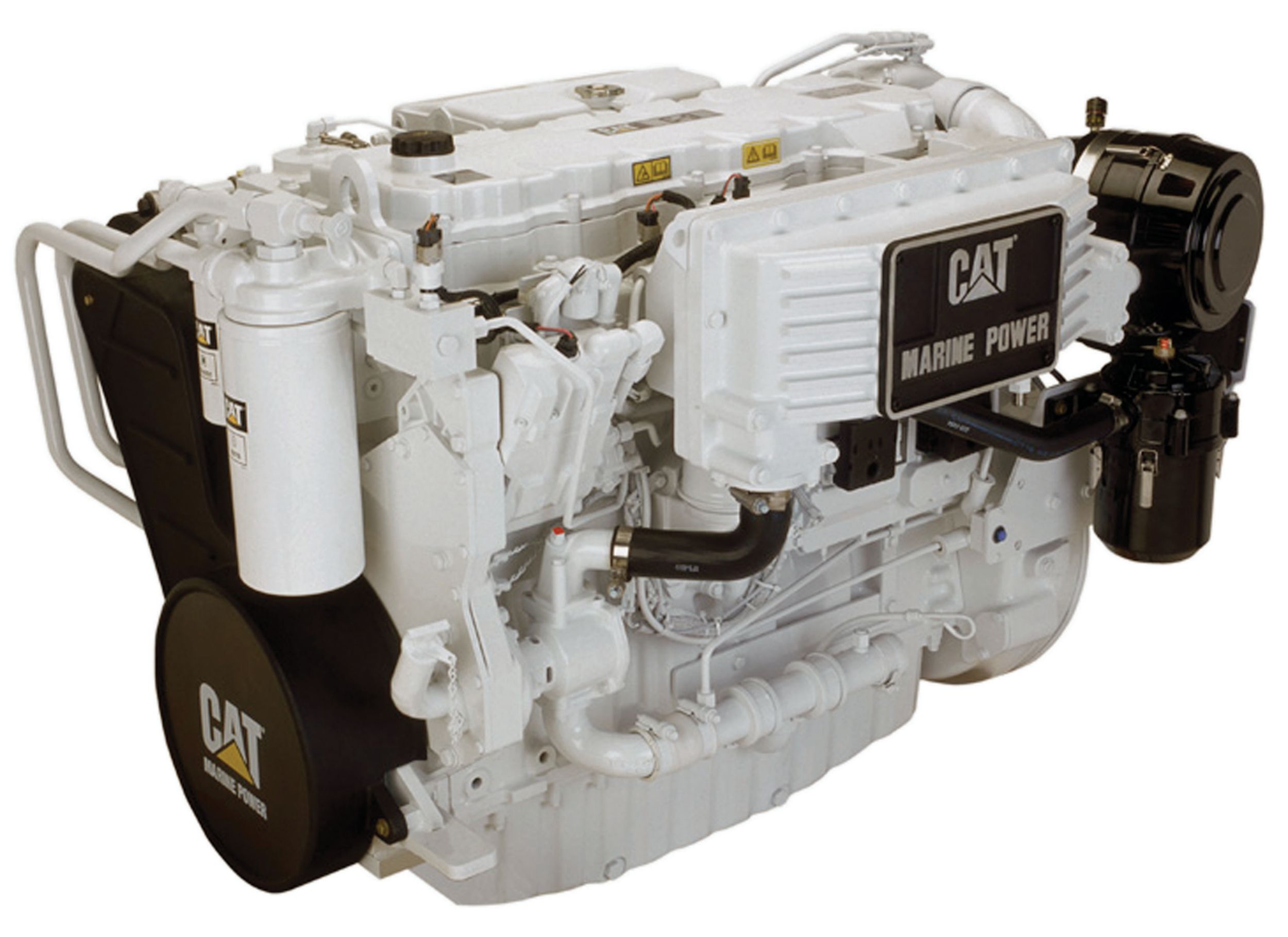 C9 ACERT™ High Performance Marine Propulsion Engine
Cat® C9 ACERT Diesel Marine Propulsion Engine, with ratings of 510-575 mhp (503-567 bhp) at 2500 rpm, meets IMO II emission standards.
Dimensions & Weights
Length

47.2in

Height

38.7in

Approximate Engine Dry Weight

2086lb

Width - Engine

38.3in
Engine
Speed Range

2500 rpm

Aspiration

TA

Rotation from Flywheel End

Counterclockwise

Configuration

In-line 6, 4-Stroke-Cycle Diesel

Displacement

538in³

Stroke

5.87in

Bore

4.41in

Emissions

IMO II
Ratings
Power Range

503-567 bhp (375-423 bkW)
Equipment
Air Inlet System

Aftercooler (sea water)
Air Cleaner/Fumes Disposal (closed crankcase) - shipped loose
Turbocharger

Control Panels

Electronic governor
Hydraulic Electronic Unit Injection (HEUI) fuel system
Electronic Control Module (ECM)
Engine mounted 70-pin dedicated customer connector
SAE J1939 data link

Cooling System

Thermostat and housing
Jacket water pump, belt driven, centrifugal
Auxiliary sea water pump, gear driven
Expansion tank (heat exchanger engines only)
Engine mounted heat exchanger, removable tube bundle (for sea water) (heat exchanger engines only)
Engine oil cooler
Auxiliary sea water lines
Transmission oil cooler

Flywheel & Flywheel Housings

Flywheel, SAE No. 1, 113 teeth
Flywheel housing, SAE No. 1

Fuel System

Fuel filter, RH service on Port, LH service on starboard
Fuel transfer pump
Fuel priming pump

Lube System

Crankcase breather
Oil filter, front center service
Oil filler, in valve cover
Oil level gauge, RH service on port, LH service on starboard
Oil pan
Oil pan drain, RH service on port, LH service on starboard
Engine oil pump (gear driven)

Mounting System

Front support, adjustable height

Protection System

Overspeed shutoff - electronic

General

Torsional vibration damper and guard
Lifting eyes
Literature
Engine wiring
RH or LH service options
Optional Equipment
Cooling System

Exhaust System

Exhaust Temp Sensor
Watercooled Elbows

Fuel System

Fuel cooler
Flexible fuel lines

Instrumentation

OEM Wiring Harness
Engine to Engine Harness
Wiring Harness
Transmission Sensors
Marine Power Display System
Marine Power Display
Marine Power Display Bracket

Lube System

Oil Filler
Sump pumps, manual
Sump pump lines

Mounting System

Power Take-offs

Crankshaft pulley
Damper and Stub Shaft
Pulley and Stub Shaft

General

Damper Guard
Belt Guard - Alternator

Packing

Engine Protective Cover
Export Packing
Interested In This Product?