GCM34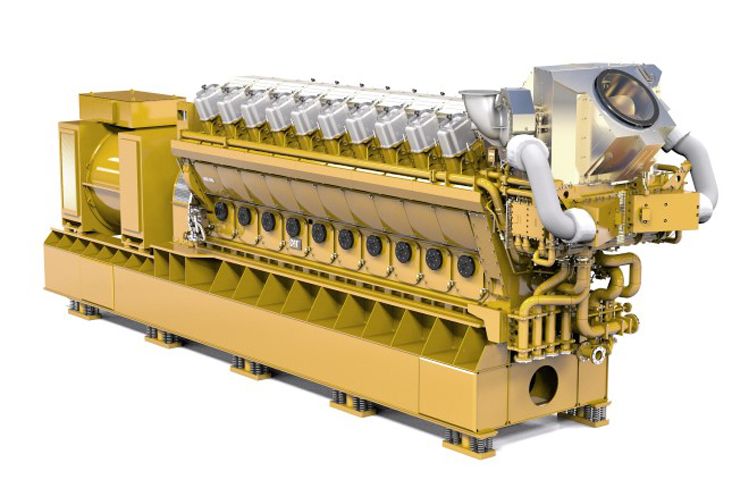 GCM34
Caterpillar electric power stands for reliable energy supply. Especially during the energy system transformation, Cat generator sets close the energy gap caused by renewable energy source such as wind and photo voltaic. Short ramp up time, low operating costs and rapid maintenance times ensures a high availability according to the need of our customers. Combined heat /cool and power solutions allow our customers to maximize the efficiency and earnings paired with low emissions. Wherever power is needed around the globe, Caterpillar is able to support you with the best products and services to maximize your profit.
Generator Set Configurations
Specific Energy Consumption Up To
Engine Specifications
Bore

13.39in

Engine Type

4-stroke-engine

Configuration

16, 20 cylinder

Frequency At Speed

50 Hz @ 750/ 60 Hz @ 720

Aspiration

Turbocharged-aftercooled

Engine Rating Range

6720 - 10500 kW

Stroke

16.54in

Mean Effective Pressure Up To

319psi

Normal Ramp Up To 100% Load

80 s

Ready To Accept Loads (Preheated/Vented)

80 s

Specific Fuel Oil Consumption (WB I) Up To

0.406Ib/kWh

Specific Fuel Oil Consumption (WB II) Up To

0.406Ib/kWh

Specific Lube Oil Consumption

0.001Ib/kWh

Swept Volume

2327in³
Generator Set Dimensions
Height

201in

Dry Weight - Genset

164ton (US)

Length - Maximum

562in

Length - Minimum

476in

Width - Maximum

154in

Width - Minimum

137in

Height - Minimum

189in

Dry Weight - Genset (minimum)

297624ton (US)
Generator Set Specifications
Genset Rating Range

6580 - 10300 kWe

Fuel Type

Gas

Emission Level Up To

Technische Anleitung (TA) Luft- 2002

Voltage

3-13.8 kV

Engine Efficiency Up To

48.0%

Bore

13.39in

Dry Weight - Genset (maximum)

361558lb

Emergency Ramp Up 10% To 100% Load

60 s

Height - Maximum

201in
Equipment
Fuel System

Circulation module
Pre-pressure module
Separator module
Engine ventilation module (only dual fuel (DF) and gas)
Gas valve unit (GVU) (only dual fuel (DF) and gas)
Ignition fuel oil module (only dual fuel (DF))

Lubricating Oil System

Combined module: cooling water system and lube oil system
Lube oil separator module
Piping interface module

Cooling Water System

Combined module: see lube oil system
Cooling water system with radiators
Piping interface module

Starting System

Starting air compressor module
Starting air receiver module

Combustion Air System

Air filter - pocket
Air filter - oil bath
Air filter - pulse

Exhaust System

Exhaust gas silencer
Selective catalytic reduction (SCR) system
Oxidation catalytic (Oxicat) converter system
Exhaust gas ventilation module (only dual fuel (DF) and gas)

Control & Monitoring System

Local control panel (LCP)
Local data panel (LDP) / generator control panel (GCP)
Motor control center module (MCC)
Engine monitoring package
Gas leak detection per cylinder (only dual fuel (DF) and gas)

Mounting System

Elastic mounting - genset/engine
Interested In This Product?