3516C Marine Propulsion Engine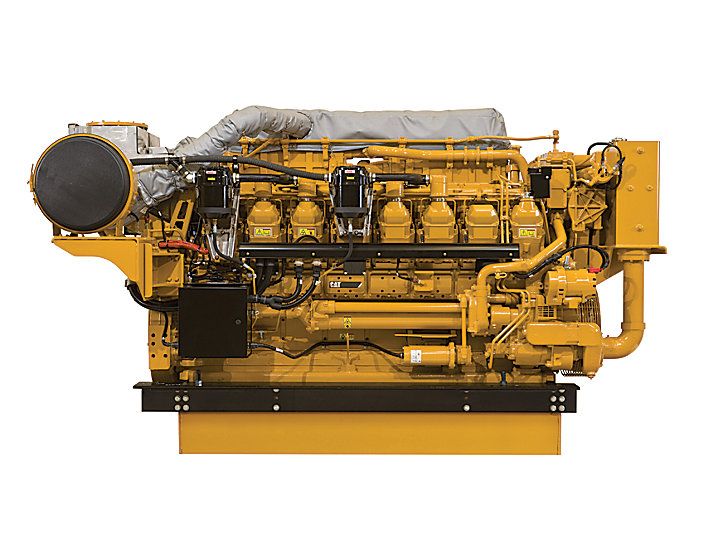 3516C Marine Propulsion Engine
The 3516C propulsion engine is available with a wide range of ratings that meet IMO II regulations without any additional aftertreatment. These engines provide efficient operation with electronic governing, cold mode start strategy, and programmable low idle to minimize fuel consumption. The 3516C engine also incorporates a closed crankcase ventilation system to lower emissions.
Dimensions & Weights
Minimum Width

80.2in

Minimum Length

143.1in

Minimum Dry Weight

17550lb

Maximum Length

148in

Maximum Height

84.6in

Maximum Width

84.3in

Minimum Height

77.4in
Engine Specifications
Stroke

7.48in

Bore

8.46in

Aspiration

TTA

Emissions

IMO II

Speed Range

1200-1800 rpm

Rotation from Flywheel End

Counterclockwise or clockwise

Configuration

Vee 16, 4-Stroke-Cycle Diesel

Displacement

4765in³
Power Rating
Power Range

1650-3386 bhp (1230-2525 bkW)
Equipment
Air Inlet System

Corrosion resistant separate circuit freshwater aftercooled, powercore air cleaner

Control System

Dual Caterpillar® A3 Electronic Control Unit (ECU) LH with electronic unit injector fuel system rigid wiring harness (10 amp DC power required to drive ECU)

Cooling System

Gear-driven centrifugal auxiliary sea water pump, geardriven centrifugal jacket water pump, expansion tank for commercial engines, coolant shunt tank on lightweight engines, engine oil cooler, thermostats and housing.

Ecu Functions

Programmable low idle, SAEJ1939 data link, Cat® data link, engine diagnostics, general alarm relay, programmable parameters (system application and tattletales), Caterpillar ET service tool interface, remote shutdown, shutdown notify, load feedback, overspeed shutdown, overspeed verify

Exhaust System

Dry gas-tight exhaust manifolds with heat shields, dual turbochargers with watercooled bearings and heat shield. Wastegate on select ratings

Fuel System

Electronically controlled unit injectors, simplex fuel filter (RH) with service indicators, fuel transfer pump

Instrumentation

Marine Power Display of: Engine oil pressure, engine water temperature, fuel pressure, engine speed, fuel consumption, overspeed shutdown notification light, prelube and shutdown override

Lube System

Gear-driven pump, top-mounted dual crankcase breather groups, simplex oil filter, oil filler and dipstick

Power Take-offs

Accessory drive, two-sided front housing

Protection System

Emergency stop pushbutton, safety shutoff, oil pressure, and water temperature

General

Two lifting eyes mounted to cylinder heads, Caterpillar yellow paint, parts books and maintenance manuals, shrink-wrap.

Iso Certification

Factory-designed systems built at Caterpillar ISO 9001:2000 certified facilities.
Optional Equipment
Air Inlet System

Air Cleaner Removal
Remote Air Inlet Adapters

Charging System

Battery Chargers
Charging Alternators

Control System

Throttle Position Sensor
Throttle Synchronization

Cooling System

Water Level Switch Gauge
Coolant Level Sensors
Connections
Keel Cooling Conversions
Heat Exchangers
Auxiliary Water Pumps
Sea Water Pump Removal
Coolant Shunt Tanks
Air Separator
Marine Gear Cooling

Exhaust System

Exhaust Outlet
Flexible Fittings
Elbows
Flanges
Flange and Exhaust Expanders
Mufflers

Fuel System

Fuel Cooler
Fuel Priming Pumps
Flexible Fuel Lines
Rigid Fuel Lines
Primary Fuel Filter
Fuel level switch

Instrumentation

PL1000T Communication Module
PL1000E Communication Module
Customer Interface
Thermocouples
Remote Panel Display
Remote Cylinder Temperature Display
Pilot House Instrument Panels
Marine Gear Sensors
Engine Vision Display System

Lube System

Oil Pan
Oil Pan Accessories
Sump Pumps
Prelubrication Options
Lubricating Oil
CENTRIFUGAL OIL FILTER

Mounting System

Engine Supports
Vibration Isolation Mountings

Power Take-offs

Flexible Coupling and Guards
Front Housing Accessories
Upper Left Hand Front Location:
Upper Right Hand Front Location:
Upper Right Hand Rear Location:
Lower Left Hand Front Location:
Lower Left Hand Rear Location:
Front Housing Accessory Drives
Upper LH Accessory Drive
Upper RH Accessory Drive
Front Power Take Offs
Crankshaft Pulleys
Damper Guard Removals

Protection System

Air Inlet Shutoffs
Switches and Contactors
Explosion Relief Valve
Sensors

Spare Parts Kits

Parts Kits
Pump Kits
Fuel Transfer
Lube Oil

Special Appearance

Chrome Plated Relief Valves
Black Air Cleaners

Starting System

Starting Motors or Barring Device
Air Starting Motors Options
Starting Aids
Battery Sets - 24 Volt - Dry
Battery Rack

General

Tool Set
Caterpillar Datalink Wire
Interested In This Product?