3512C Propulsion Engine (IMO II)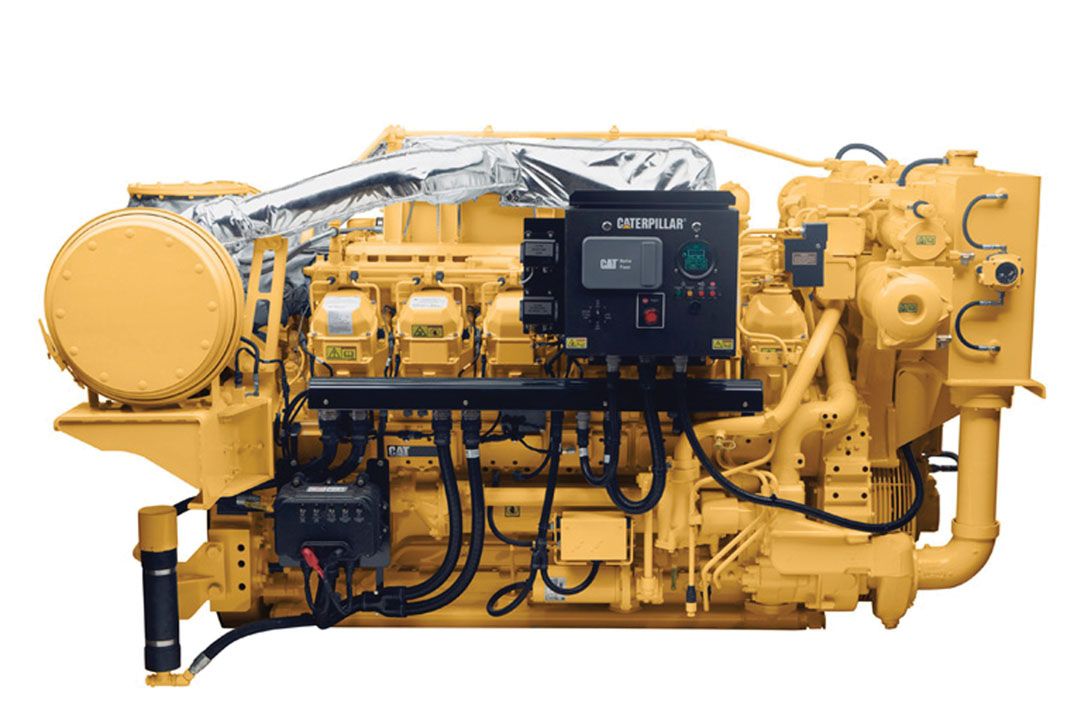 3512C Propulsion Engine (IMO II)
The Cat 3512C marine propulsion engine makes your investment work harder. Through a wide range of available power ratings (including High Displacement ratings), no required aftertreatment technology, and nominal rated BSFC fuel consumption – it will drive down your total cost of ownership. With a redesigned piston bowl shape to improve combustion, and improved fuel delivery, this engine is IMO II emissions compliant and committed to sustainable environmental development. Single-source support, the Caterpillar warranty, and industry-leading one-year warranty on parts make the 3512C a fully integrated marine power solution.
Dimensions & Weights
Maximum Dry Weight

16340lb

Minimum Width

80.2in

Minimum Height

75in

Minimum Dry Weight

14400lb

Maximum Length

105.1in

Maximum Height

88.3in

Maximum Width

87.9in

Minimum Length

102in
Engine Specifications
Displacement

3161in³

Stroke

7.48in

Bore

6.69in

Aspiration

TTA

Emissions

IMO II, EU IW

Speed Range

1200 rpm, 1600 rpm, 1800 rpm

Rotation from Flywheel End

Counterclockwise or Clockwise

Configuration

Vee 12, 4-Stroke-Cycle Diesel

Stroke - HD

8.5in

Displacement - HD

3574in³
Power Rating
Power Range

1280-2551 bhp (955-1902 bkW)
Equipment
Air Inlet System

Separate circuit aftercooler core, corrosion resistant coated (air side)
Powercore air cleaner

Control System

Dual Caterpillar A4 Electronic Engine Control with Electronic Unit Injector Fuel System
Rigid Wiring Harness (10 amp DC power required to drive Electronic Engine Control Module)

Exhaust System

Fuel System

Fuel transfer pump
Electronically Controlled Unit Injectors

Instrumentation

Electronic service meter, instrument panel (24V), start/stop switch, emergency stop button, maintenance due light, diagnostic light, warning light, maintenance clear switch, start motor magnetic switch, 15 and 3A breakers
Graphical Unit (Color Marine Power Display) for analog or digital of:

Lube System

Crankcase breather groups, Top mounted
Oil filler and dipstick, LH or RH
Oil pump, gear type
250 or 1000 hour sump oil pan

Mounting System

Rails, engine mounting, ledge type, 203 mm x 203 mm (8 in x 8 in) or Front Trunnion

Power Takeoffs

Accessory drives: Lower RH, lower LH
Front housing, two-sided

Protection System

A4 Electronic Monitoring System provides customer programmable engine derating strategies to protect against adverse operating conditions
Emergency stop push button (located in Electronic Instrument Panel)
Safety shutoff protection:

General

Vibration damper and guard
Lifting eyes
NOTE: Engines for heat exchanger cooling do NOT include heat exchange

Flywheel And Flywheel Housing

Flywheel, SAE No. 00, 183 teeth
Flywheel housing, SAE No. 00

Cooling System

Oil cooler
Thermostats and housing, Full open temperature 92 C (198 F)
Jacket water pump, gear driven, centrifugal
Auxiliary fresh water pump
Aftercooler system: If using glycol, up to maximum 20% glycol concentration is allowed
Optional Equipment
Air Inlet System

Charging System

Battery Chargers
Charging Alternator

Control System

Cooling System

Coolant Shunt Tank
Cooling System Options

Exhaust System

Flexible Fittings
Elbows
Flanges
Flange and Exhaust Expanders
Mufflers

Fuel System

Fuel Cooler Heat Exchanger - Sea Water
Primary Fuel Filter
Fuel Level Switch
Rigid Fuel Lines
Flexible Fuel Lines

Instrumentation

Communication Modules
Color Marine Power Display System
Pilot House Instrument Panels
Marine Gear Sensors

Lube System

Sump Pumps
Lubricating Oil

Power Take-offs

Stub Shafts
Crankshaft Pulleys
Damper Guard
Flexible Coupling and Guards

Marine Society Requirements

Green Passport Documentation
Spray Shielding

Protection System

Shutoff and Alarm Contactors

Special Appearance Packages

Special Appearance Packages with Chrome Covers
Yacht Class Finish

Starting System

Air Starting Motor Options
Battery Sets - 24 Volt - Dry
Battery Rack

Mounting System

Engine Supports
Vibration Isolation Mountings

Packing

Shrink Wrap Protection
Storage Preservation with Glycol Solution/Vapor Corrosion Inhibitor
Export Boxing
Export Packaging
Interested In This Product?