Cat C18 Auxiliary/Generator Set Engine (IMO II)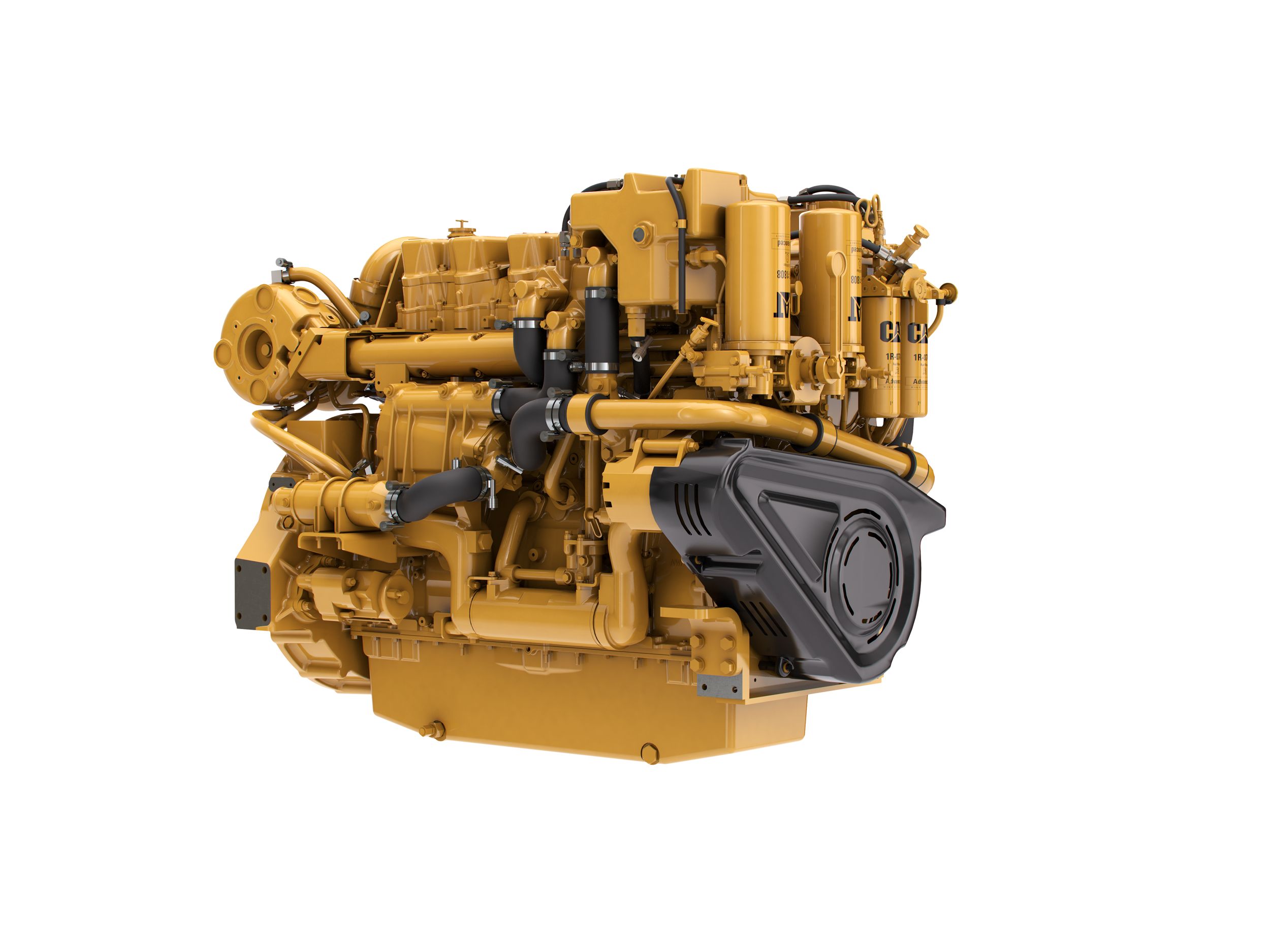 Cat C18 Auxiliary/Generator Set Engine (IMO II)
C18 ACERT auxiliary/generator set engines incorporate a separate circuit aftercooling system (SCAC) for all configurations. The primary advantage of the SCAC systsem is reduced aftercooler corrosion since no sea water circulates through the aftercooler. Many other improvements on these engines also contribute to minimizing owning and operating costs. The IMO II compliant ratings are available with heat exchanger or keel cooled options. All major MCS type approvals are available from the factory.
Dimensions & Weights
Dry Weight

1950lb

Width

44.6in

Length

73in

Height

51.2in
Engine Specifications
Rotation from Flywheel End

Counterclockwise

Displacement

1106in³

Bore

5.7in

Aspiration

TA, TTA

Configuration

In-Line 6, 4-Stroke-Cycle Diesel

Stroke

7.2in
Power Rating
Minimum Rating

404BHP

Maximum Rating

660BHP
Equipment
Air Inlet System

Separate circuit after-cooled (SCAC)
Open Crankcase Ventilation (OCV) system
Turbocharger, jacket water cooled
Turbocharger inlet, 152 mm (6 in) OD straight connection

Control System

Programmable low idle
Electronic diagnostics and fault logging
Electronic fuel/air ratio control
Engine Protection Mode for extended ambient conditions - EPA Tier 3 Ratings Only
70-pin customer connector
Three types of throttle inputs (primary/ secondary PWM, 0-5V, 4-20mA

Cooling System

Separate Circuit After-Cooling (SCAC) for both HEX and Keel cooled engines
Engine JW and SCAC Shell & Tube Heat Exchangers for HEX cooled engines
SCAC pump, gear driven, for HEX cooled engines only
Jacket water pump, gear driven
Auxiliary water pump, gear driven
Sea water pump, bronze impeller, gear driven
SCAC and JW shunt tanks for maintaining proper pump inlet pressures

Exhaust System

152 mm (6 in) round flanged outlet
Water-cooled exhaust manifold & turbocharger

Flywheels & Flywheel Housings

Flywheel Housing, SAE No. 0
Flywheel, 18 inch, 136 teeth
SAE standard rotation

Fuel System

Front service simplex fuel system
Fuel transfer pump, gear driven
Manual fuel priming pump
Hybrid fuel line design

Lube System

Front service simplex oil system
Center sump oil pan:
Front and top service oil filler locations
Front service dipstick
Oil pump, gear driven

Mounting System

Front support - adjustable

Power Take-offs

Hydraulic Pump Drive
Crankshaft Pulleys
Front Stub Shaft
Front Enclosed Clutch

General

Front damper guard
Front service engine
Common electrical bonding point
Engine does not ship with zinc components
NOTE: These engines are for constant speed generator set applications only, and NOT to be used for variable speed applications
Optional Equipment
Exhaust System

Dry Elbows
Water-Cooled Elbows
Flexible Fitting
Flange
Muffler
Muffler Spark Arresting

Air Inlet System

Charging System

Battery Chargers
Charging Alternators
Alternator Mounting Group
Ammeter

Control System

MECP I - Marine Engine Control Panel
Caterpillar Alarm and Protection
Load Sharing Attachment

Cooling System

Aux Expansion Tank Flange Kit

Fuel System

Duplex Fuel Filters
Fuel Cooler
Primary Fuel Filters
Flexible Fuel Lines

Instrumentation

Instrument Panels
OEM Wiring Harness
Gauges
Oil Level Sensor

Lube System

Duplex Oil Filters
Sump Pump

Power Take-offs

Crankshaft Pulleys
Front Stub Shaft
Hydraulic Pump Drive Adapter
Front Enclosed Clutch

Protection System

Marine Classification Society and SOLAS

Starting System

Electric Starting Motors - Single 24 Volt
Air Starting Motor
Air Start Accessories
Starting Aids - JW Heaters
Battery Sets - 24 Volt - Dry

Mounting System

Front Support
REAR ENGINE SUPPORT

Packing

Engine Protective Cover
Storage Preservation
Export Packing
Interested In This Product?