963K WH Waste Handler Track Loader
963K WH Waste Handler Track Loader
From loading to sorting to excavation and spreading cover material, the track loader is one of the most versatile pieces of equipment in your landfill or transfer station. The Waste Handling Arrangement features added guarding and seals to gives you a machine that is purpose built to take on the challenges of waste applications. A choice of buckets and track shoes allow you to further optimize the machine for greater performance and service life. The new 963K offers added fuel efficiency over the previous model, as well as greater comfort and improved implement and steering response. The 963K meets U.S. EPA Tier 4 Final/EU Stage IV/Korea Tier 4 emission standards.
963K Waste Handler Features
Purpose-built for performance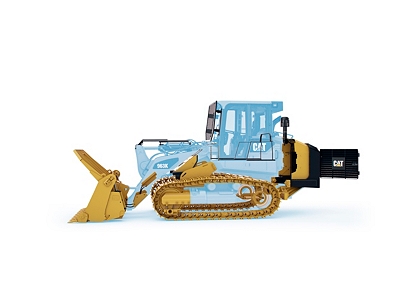 (1) Final drive seal guards feature a metallic outside ring welded to the final drive to help protect seals from damage due to wrapping of wire or plastic.
(2) Idler guards protect and limit the entry of debris to the tensioning system. Includes scrapers mounted around idler.
(3) Idler with seal protection has steel rings integrated into the idler design. Helps keep wire, strapping, etc. from damaging the Duo-Cone™ seals.
(4) Engine compartment seals limit debris entry and plugging of radiator core. Gaps sealed between sheet metal and other components for added protection.
(5) Windshield screen helps protect windshield and operator from breakage and debris.
(6) Guarding helps protect lift lines coming out of the chassis and lift cylinder hydraulic tube.
(7) Tilt cylinder guard helps protect rod surface from damage by falling debris.
(8) Guarding helps protect bucket hydraulic lines from damage.
963K Waste Handler Features
Purpose-built for performance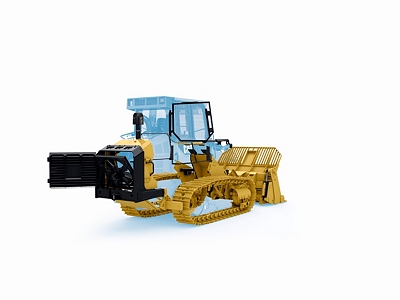 (9) Turbine precleaner reduces particles coming into the engine air inlet for extended engine filter life.
(10) Hydraulic reversible fan purges debris from the radiator and engine compartment air inlets by reversing the airflow. Limits radiator plugging, increases maintenance interval.
(11) Radiator fan folds out for easier cleaning/maintenance access to fan and radiator. Angled louvers direct air upward away from the ground.
(12) Heavy duty rear bumper offers optimal protection to the back of the machine – especially the cooling system. Includes a heavy duty grill with latch for quick opening, as well as a hitch.
(13) Optional rear vision camera/display helps improve visibility behind the machine.
(14) Rear striker bars help keep trash from damaging the fenders. Highly recommended in waste application to help extend sheet metal life.
(15) Center-hole track is recommended for waste applications. The design allows sprocket to push out debris, helping to reduce packing within the track links. Helps limit wear on track components and extend undercarriage life.
Double Grouser Shoes provide good balance of traction and a smooth ride. Recommended over single grouser for reduced damage when working on concrete.
Single Grouser Track is aggressive for good chopping action. Offers the best traction in poor underfoot conditions.
(16) The landfill bucket is equipped with heavy-duty trash rack to increase bucket capacity, reduce spillage, and help protect tilt cylinder rod. General purpose and multi-purpose bucket options are also available.
(17) Eight lights – four at top front corner of windshield, four on air conditioning compressor guard – illuminate work area in low light conditions.
Engine
Engine Model

Cat® C7.1 ACERT™

Engine Power (Maximum) – ISO 14396

221hp

Engine Power (Maximum) – ISO 14396 (DIN)

224hp

Net Power (Rated) – ISO 9249/SAE J1349

193hp

Net Power (Rated) – ISO 9249/SAE J1349 (DIN)

196hp

Emissions

Tier 4 Final/Stage IV/Korea Tier 4

Bore

4.13in

Stroke

5.31in

Displacement

427.8in3
Buckets
Capacity - General Purpose Landfill

4.05yd3

Capacity – General Purpose

3.2yd3

Capacity – Landfill

4.05yd3

Capacity – Multi-Purpose

2.48yd3

Capacity – Performance Series

3.66yd3

Bucket Width – Landfill

102.8in

Bucket Width – General Purpose

102.8in

Bucket Width – Performance Series

106.8in

Bucket Width – Multi-Purpose

101.3in
Undercarriage
Track Shoe Width – Standard

21.6in

Track Shoe Width – Optional

17.7in

Track Gauge

72.8in

Track on Ground

100in

Ground Contact Area – Standard Shoe

4340in2

Ground Contact Area – Optional Shoe

3565in2

Ground Pressure – Standard Shoe

10.3psi

Ground Pressure – Optional Shoe

12.4psi

Track Shoe Type

Double Grouser

Track Rollers – Each Side

7

Number of Shoes – Each Side

38

Grouser Height – Double Grouser

1.65in
Service Refill Capacities
Fuel Tank

84.5gal

Cooling System

8.45gal

Crankcase (with filter)

4.4gal

Final Drives (each)

4gal

Hydraulic Tank

23.7gal

Pivot Shaft

0.5gal

DEF Tank

4.22gal
Ripper Specifications
Type

Radial

Number of Pockets

3

Overall Width/Beam

76.7in

Penetration

11.6in

Ripping Width

72.3in

Shank Cross Section

58.5 mm × 138 mm (50 in × 5.4 in)

Ground Clearance

23.4in

Cylinders – Bore

4.5in

Cylinders – Stroke

11.3in

Added Machine Length with Ripper in Transport Position

24.0in
Drive System
Track Motor

Two, variable displacement, bent axis motors

Drive System

Hydrostatic drive with infinite machine speeds to 10.0 km/h (6.2 mph)

Drive Pump

Two, variable displacement, slipper-type axial piston pumps

Relief Valve Setting

6890psi
Bucket Cycle Times
Lift

5.5seconds

Power Down

3.7seconds

Float Down

2.0seconds

Dump at Maximum Height (from full rackback)

1.3seconds

Rackback at Maximum Height (from full dump)

1.4seconds
Hydraulic System – Equipment
Type

Closed center, load sensing piston

Output

60.8gal/min

Main Relief Valve Setting

3989psi
Standards
ROPS

Meets ROPS criteria SAE J1040 MAY94, ISO 3471:1994 DLV criteria SAE J397B, ISO 3164:1995

FOPS

Meets SAE J/ISO 3449 APR98 Level II, ISO 3449:1992 Level II DLV criteria SAE J397B, ISO 3164:1995

Brakes

Meet SAE J/ISO 10265 MAR99 ISO 10265:1998

Cab

Declared dynamic operator sound pressure level is 73 dB(A) when "ISO 6396:2008" is used to measure value for enclosed cab

Cab

Hearing protection is recommended when operating with an open operator station and cab

Cab

Declared exterior sound power level is 108 dB(A) when value is measured according to "ISO 6395:2008"

Cab

The labeled sound power level is 111 dB(A) measured according to the test procedure and conditions specified in 2000/14/EC.
Dimensions (Approximate)
Overall Machine Width without Bucket: With Standard Tracks – 550 mm (21.6 in) Shoes

94.5in

Overall Machine Width without Bucket: With Narrow Tracks – 450 mm (17.7 in) Shoes

90.5in

Ground Clearance

18.5in

Machine Height to Top of Cab

130.9in

Length to Front of Track

197.0in

Overall Machine Length*

278.0in

Carry Position Approach Angle

15°

Digging Depth*

5.4in

Maximum Rollback at Ground

43°

Maximum Rollback at Carry Position

50°

Bucket Height in Carry Position

18.0in

Reach at Full Lift Height and 45° Dump*

54.0in

Clearance at Full Lift Height and 45° Dump*

114.8in

Maximum Rollback, Fully Raised

52°

Maximum Dump, Fully Raised

53°

Grading Angle

63°

Height to Bucket Hinge Pin

155.1in

Overall Machine Height, Bucket Fully Raised

212.7in

Height to Top of Seat with Headrest

110.6in

Height to Top of Stack

115.7in

Ramp Angle

29°

Note

* With general purpose bucket and extra duty teeth.
Equipment
Power Train

Cat C7.1 ACERT diesel engine
Tier 4 Final/Stage IV/Korea Tier 4 emission standards
Twin turbocharged with ATAAC
Modular cooling system for engine air intake, oil and water
Fan radiator, electronically controlled, hydraulically driven, temperature sensing, on demand
Electro Hydrostatic Control (EHC) for transmission with travel and work modes
Electric fuel pump
Water separator
Air cleaner dry-type, axial seal with integral precleaner and dust ejection system, electronic filter condition indicator
Engine mounted aftertreatment
Muffler, under hood
Starting aid, glow plug
Cat extended life coolant

Undercarriage

Cat Enhanced Sealed and Lubricated Track (ESALT) tracks
Track guiding guards, end section
Track adjuster, hydraulic
Sprocket rims, with replaceable bolt-on Tough Steel segments
Guards, sprocket
Seven track rollers per side, with two upper carrier rollers, lifetime lubricated
Idlers, conventional type, lifetime lubricated
Oscillating track roller frames

Electrical

Alternator, 24V, heavy duty brushless
Alarm, backup
Horn, electric
Two heavy duty batteries, high output, maintenance free, 1,120 CCA
Switch, main disconnect
Starter, electric (heavy duty, 24V)
Four halogen lights, two facing forward, roof mounted; two facing rearward integrated into A/C unit

Operator Environment

Pressurized, sound suppressed, ROPS/FOPS
Cab with tinted glass and right side sliding window
Air conditioning and heating
Heater/defroster with automatic temperature control
Seat, fabric-covered, air suspended adjustable
Electro hydraulic, seat mounted control levers with faster processing
Seat belt, retractable, with indicator on dash
Electronic Monitoring System with gauges for: – Engine coolant temperature – Hydraulic oil temperature – DEF level – Fuel level
Mirror, rearview, inside, adjustable
Radio ready – includes 24V to 12V converter, speakers, antenna and two 12V power outlets
Coat hook
Storage compartments under left armrest
Document holder on right console
Floor mat, rubber, heavy duty
Windshield washers and wipers, multiple speed front and rear
Durable metal roof
Parking brake switch and "brake-on" indicator light
Fender

Other Standard Equipment

Sound suppression, exterior
Z-bar loader linkage
Load sensing variable displacement implement pump
Implement cylinders sensors
Operator programmable lift and tilt
Engine enclosure with lockable doors
Radiator core 6.5 fpi, debris resistant
Hinged radiator guard and swing out fan
Guards, full bottom
Ecology drains on hydraulic oil tank
Product Link ready
Oil sampling valves
Hoses, Cat XT™
HYDO™ Advanced 10
Interested In This Product?