854K Wheel Dozer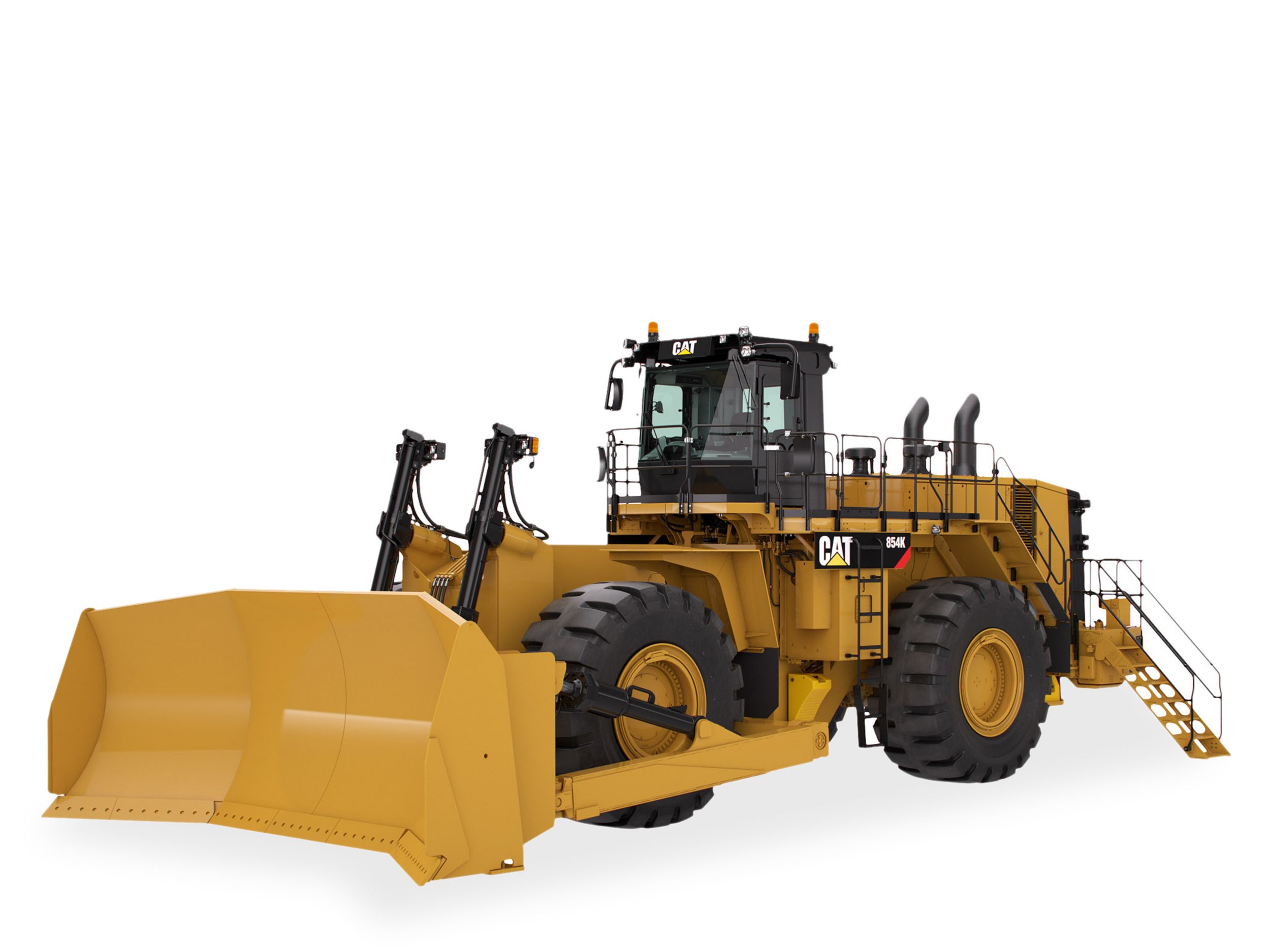 854K Wheel Dozer
Cat Large Wheel Dozers are designed with durability built in, ensuring maximum availability through multiple life cycles. With optimized performance and simplified serviceability, our machines allow you to move more material efficiently and safely at a lower cost per ton. Engineered for your demanding work in large dozing applications, the 854K Wheel Dozer is the largest in the Cat Wheel Dozer line and is an ideal match for large mining operations, power generating utilities, the general contracting industry and wherever mobility, versatility and compaction is needed.
Structures
Best built for the toughest conditions.
Robust Structures
Your bottom line is improved by highly durable structures that achieve multiple life cycles and withstand the toughest loading conditions.
Full box-section rear frame resists torsional shock and twisting forces.
Castings in the engine end frame are used in high stress areas to spread high loads.
Cast axle pivot mounting areas better disperse stress loads for increased structural integrity.
90 percent of the machine structure is robotically welded to provide highly consistent welds and increased strength.
Frames
Your key to maximum uptime and productivity is our purpose built front and rear frames.
Full box-section frames absorb torsional forces during dozing, maintaining alignment for hitch pins and drive line.
Spread hitch design features double tapered roller bearings and hardened pins that resist both horizontal and vertical loads.
Enhance strength in key pin areas through the use of one piece castings.
Push Beam and Push Arm Dozer Arrangement
To ensure long life and reliability, solid one piece push beams are through-width, not merely attached to the side of the frame. In corner dozing, stresses are transferred and absorbed through a larger portion of the frame.
Power Train
Move material more efficiently with improved power and control.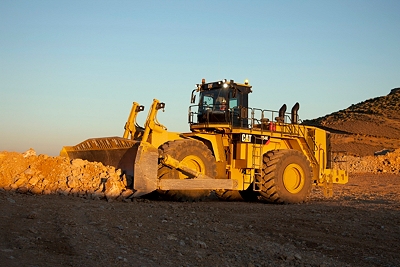 Steering and Transmission Integrated Control System (STIC™)
Experience maximum responsiveness and control with STIC that combines directional selection, gear selection and steering into a single lever.
Simple side-to-side motion turns machine right or left, minimizing operator movements.
Easy to operate finger controlled gear selection.
Smoother, faster cycles and less operator fatigue through the use of low effort integrated controls.
Cat Planetary Powershift Transmission
Building your success begins with a best-in-class transmission designed specifically for mining applications.
Consistent, smooth shifting and efficiency through integrated electronic controls.
Long life and reliability through heat treat gear and metallurgy.
Three forward and three reverse speeds to match your application.
Cat C32 ACERT Engine
Durability and efficiency at the heart of your 854K comes from the Cat C32 engine with ACERT technology. Optimum performance is built in through the use of a 12‑cylinder, four-stroke design.
On-demand performance through the use of turbochargers and aftercoolers.
High Torque Rise - 33% torque rise ensures high lugging forces during dozing.
Extended engine life through lower rpm ratings.
Quick engine response through the use of electronic engine controls.
U.S. EPA Tier 4 Final rating available for highly regulated regions.
Impeller Clutch Torque Converter (ICTC) and Rimpull Control System (RCS)
Lower your cost per ton utilizing advanced ICTC and RCS for modulated rimpull.
Reduce tire slippage and wear by modulating rimpull from 100 to 25 percent while depressing left pedal. After 25 percent rimpull is achieved the left pedal applies the brake.
Reduce the potential for wheel slippage without reducing hydraulic efficiency with RCS.
Improve fuel efficiency in certain applications with our lock-up clutch torque converter providing direct drive.
Hydraulics
Productivity enabling you to move more and make more.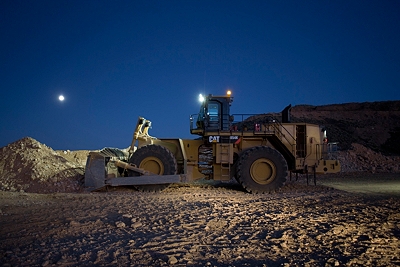 Electro Hydraulic Controls
Operators increase productivity with our responsive implements feature.
Operate comfortably through electronically controlled hydraulic cylinder stops.
Handle easy-to-use soft detent controls.
Blade Response
Improve operator efficiency by matching the speed of the blade movement to your application.
Three different speeds: Standard, Fine and Fast.
Easily configured through the advisor display.
Only affects blade raise and lower functions.
Steering System
Confident loader operation starts with precise machine control enabled by the 854K's load sensing hydraulic steering system.
Increase efficiency with our variable displacement piston pumps.
Achieve precise positioning for easy loading in tight areas with 40 degrees of steering articulation.
Enhance operator comfort with integrated steering and transmission control functions.
Filtration System
Benefit from extended performance and reliability of your hydraulic system with our advanced filtration system.
Lift/tilt case drain filters.
Lift/tilt high pressure screens.
Steering case drain filters.
Steering high pressure screens.
Hydraulic case drain filters.
Front pump drive lube filter.
Front and rear brake oil screens.
Operator Station
Best-in-Class operator comfort and ergonomics.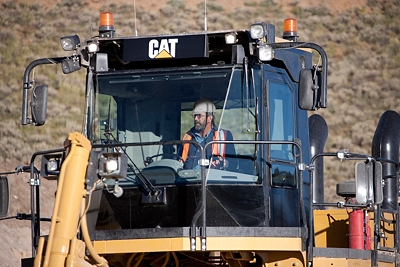 Your operators can work more efficiently and stay comfortable with our customer-inspired cab features.
Entry and Exit
Enter and exit the cab easily and safely with these newly designed, ergonomic features.
Two side access points.
Fold up STIC steer/arm rest.
Reduced access stairway angles.
Cat Comfort Series III Seat
Enhance comfort and reduce operator fatigue with Cat Comfort Series III seat.
High back design and extra thick, contoured cushions.
Air suspension system.
Easy-to-reach seat levers and controls for six way adjustments.
Seat-mounted implement pod and STIC steer that moves with the seat.
76 mm (3 in) wide retractable seat belt.
Trainer Seat
Safely train other operators in comfort with our standard training seat.
76 mm (3 in) wide, retractable seat belt.
Fold-down design with molded drink tray and storage.
Environment
Your operator's productivity is enhanced with our clean, comfortable cab environment.
Experience reduced vibrations from viscous cab mounts and seat air suspension.
Maintain desired cab temperature with automatic temperature controls.
Pressurized cab with filtered air.
Sound level reduced to a quiet 71 dB(A).
Technology Solutions
Greater productivity through Integrated Electronic Systems.
The 854K electronic systems have been completely integrated to function as one machine. This integration creates a smart machine and more informed operator, maximizing the productivity of both.
VIMS™ 3G
We have worked hard to help our customers and operators perform at their best through our Vital Information Management System (VIMS 3G).
Easy-to-view Advisor Display features a large screen.
Intuitive operation and easy navigation with our enhanced user interface.
Decrease service time by keeping operators informed about machine system malfunction or operation.
Operator Profile
Operator comfort begins with personalized machine feature settings. Through our Advisor Display, an operator can instantly recall personalized profiles.
Store up to 10 separate operator profiles through Advisor.
Decrease setup time between operators by recalling personalized screen layouts.
Cat MineStar System
Work more productively.
Cat MineStar System is the industry's broadest suite of integrated mine operations and mobile equipment management technologies, configurable to suit your operation's needs. Its capability sets - Fleet, Terrain, Detect, Health and Command - contain a range of technologies that let you manage everything from fleet assignment and condition monitoring to remote and autonomous control. The 854K can take advantage of many of these advanced technologies, some of which are standard out of the factory.
Fleet
Fleet provides comprehensive, real-time machine tracking, assignment and productivity management, giving you a comprehensive overview of all operations from anywhere in the world.
Terrain for Loading
Terrain with your 854K enables high-precision management of loading operations through the use of guidance technology. It increases 854K's productivity and provides you real-time feedback for improved efficiency.
Detect
Detect helps increase operator awareness, enhancing safety at your operation. It includes a range of capabilities designed to assist the operator with areas of limited visibility around fixed and mobile equipment.
Health
Health delivers critical event-based machine condition and operating data for your entire fleet. It includes comprehensive equipment health and asset monitoring capabilities, with a wide range of diagnostic, analytic and reporting tools.
Safety
Making your safety our priority.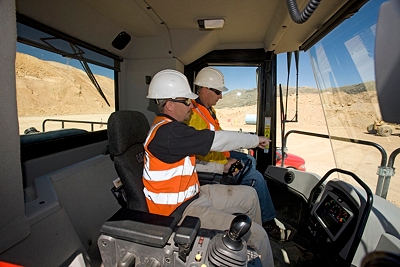 We are constantly improving our products in an effort to provide a safe work environment for the operator and those who work on your job site.
Machine Access
Wider stairs with reduced stair angles provide a safe means for operators getting on and off the 854K.
Walkways with non-skid surfaces and integrated lock out/tag out points are designed into the service areas.
Windshield cleaning platforms provide safe and convenient access for the operator.
Maintain three points of contact at all times through ground level or platform accessible service areas.
Emergency egress access.
Visibility
Optional pull-down window shade and optional heated mirrors ensure extended visibility for safe operation.
Cat Detect with Object Detection System (rearview camera and radar) or Vision (rearview camera) option increases operator awareness around the machine.
Standard HID lights provide excellent workspace visibility.
Cab mounted LED warning beacons.
Operator Environment
Low vibrations to the operator with viscous cab mounts and seat air suspension.
Low interior sound levels.
Operator training seat facilitates safe new operator training.
Standard 76 mm (3 in) seat belts on the operator seat and operator training seat.
Powered Access System
The Cat powered access system allows easier access to the primary stairs by improving ingress and egress to and from the rear platform.
Safe, ergonomic access system.
All operators have adequate space when using the wide stairway.
Operators maintain three-point contact when using full handrails on each side.
Raise lower platform from cab level or ground.
Occupants can quickly exit with a conveniently located emergency release valve if the loader becomes inoperable.
Serviceability
Enabling high uptime by reducing your service time.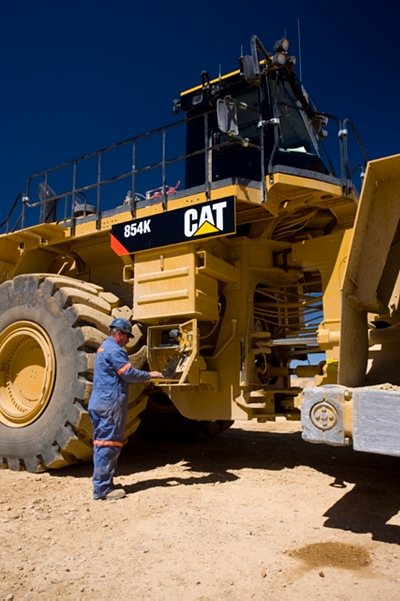 We can help you succeed by ensuring your 854K has design features to reduce your downtime.
Longer service intervals on fluids and filters.
Safe and convenient service with ground level or platform access and grouped service points.
Swing-out doors on both sides of the engine compartment provide easy access to important daily service checks.
Ecology drains for ease of service and prevention of spilling potential environmental contaminants.
Centralized remote pressure taps.
Reduce downtime with VIMS system notifications so your operators and technicians can resolve any problems before failure.
Customer Support
Your Cat dealers know how to keep your mining machines productive.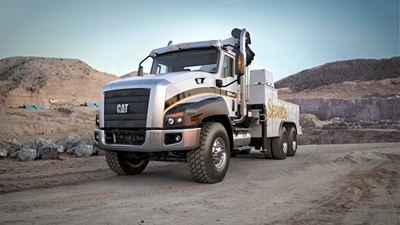 Legendary Cat Dealer Support
A valued partner, your Cat dealer is available whenever you need them.
Preventive maintenance programs and guaranteed maintenance contracts.
Best-in-class parts availability.
Improve your efficiency with operator training.
Genuine Cat Remanufactured parts.
Sustainability
Conserving natural resources for generations ahead.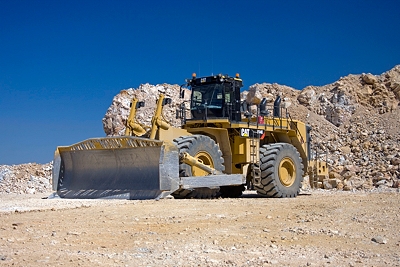 Sustainable Benefits
The 854K is designed to maximize efficiency and productivity while conserving natural resources.
Engine Idle Shutdown can help you save fuel by avoiding unnecessary idling.
Reduce waste to the environment with our maintenance free or extended maintenance batteries.
Built for multiple lives, the Cat 854K is one of the most rebuilt products. To assist with maximizing machine life, Caterpillar provides a number of sustainable options such as our Reman and Certified Rebuild programs. In these programs, reused or remanufactured components can deliver cost savings of 40 to 70 percent, which lowers operating cost while benefiting the environment.
Caterpillar offers retrofit packages to bring new features to older machines, maximizing your resource. And, when you go through the Cat Certified Rebuild program, these retrofit kits are part of the rebuild process.
Blades
Dependable dozing with blades designed for your application.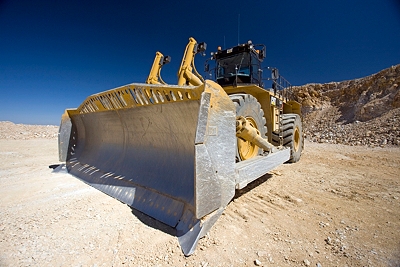 Dependable Blades
Maximize your productivity with the right blade for your dozer application.
High strength, pressed rib construction.
Large Cat Track-Type Tractor bolt on cutting edges and bottom wear plates.
Optimized widths and capacities for excellent dozing and rolling characteristics.
Coal Blade
• Increase your productivity with a Cat coal blade designed to retain load control and a large capacity for lighter materials.
Semi-U Blade
Featuring the characteristics of the S and U blades into one package for increased capacity while retaining excellent spreading characteristics of a straight blade.
Heavy-Duty Semi-U
For unmatched durability in high wear applications the Semi-U blade feature:
Hardox 400 Liner plate and side plates
Additional reinforcements on the bottom of the blade
Ripper
Maximum versatility for your job site.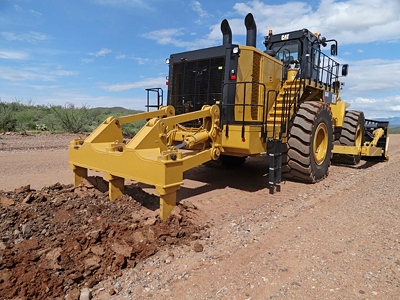 Versatility
Add more flexibility to your wheel dozer.
Ripping overburden can make removal easier.
Thin coal seams can be ripped and removed without blasting when used in conjunction with a track-type tractor.
Use for haul road maintenance to keep hauling efficiency high.
Quiet machine operation for 24 hour job sites.
Operation
Responsive hydraulic system and low effort cab controls for precise ripping.
Electro hydraulic controls for quiet efficient operation.
Intuitive proportional rocker switch for easy control of the ripper depth.
Service
Common components are designed to reduce downtime. Ripper shanks and hydraulic cylinders are shared with other Caterpillar products.
Structures
Robust ripper structures and a reinforced rear frame for maximum uptime.
Full width mounting plate to provide torsional stiffness.
Internal reinforcement of rear frame to withstand the additional ripping loads.
Ripper frame and beam are designed to match the width of the machine.
Engine
Engine Model

Cat® C32 ACERT™

Gross Power

907.0hp

Bore

5.7in

Stroke

6.4in

Displacement

1958.0in3

Torque Rise

30.0%

Emissions (Tier 2 Equivalent): Gross Power - SAE J1995

907.0hp

Emissions (Tier 2 Equivalent): Net Power ISO - 9249

814.0hp

Emissions (U.S. EPA Tier 4 Final): Gross Power - SAE J1995

900.0hp

Emissions (U.S. EPA Tier 4 Final): Net Power ISO - 9249

814.0hp

Peak Torque @ 1,200 rpm

3139.0lb ft

Rated Speed

1750.0RPM
Weights
Operating Weight

224254.0lb

Operating Weight - Ripper

241230.0lb
Transmission
Converter Drive - Forward 1

4.4mph

Converter Drive - Forward 2

7.7mph

Converter Drive - Forward 3

13.2mph

Converter Drive - Reverse 1

4.8mph

Converter Drive - Reverse 2

8.4mph

Converter Drive - Reverse 3

14.6mph

Direct Drive - Forward 2

8.1mph

Direct Drive - Forward 3

14.2mph

Direct Drive - Reverse 1

5.0mph

Direct Drive - Reverse 2

8.9mph

Direct Drive - Reverse 3

15.6mph

Direct Drive - Forward 1

Lock-up disabled

Transmission Type

Cat Planetary Power Shift
Steering
Relief Valve Setting

5004.0psi

Hydraulic Output at 1,850 rpm and 6900 kPa (1,000 psi)

124.0gal/min

Minimum Turning Radius (over bucket)

31.0ft

Total Steering Angle

82.0Degrees
Service Refill Capacities
Fuel Tank - Standard

413.0gal

Cooling System

53.0gal

Crankcase

32.0gal

Transmission

45.0gal

Differentials and Final Drives - Front

98.0gal

Differentials and Final Drives - Rear

90.0gal

Hydraulic System - Implement and Brakes (Tank Only)

81.0gal

Hydraulic System - Steering and Engine Cooling Fan (Tank Only)

77.0gal

Fuel Tank - Ripper

353.0gal
Axles
Front

Fixed

Rear

Oscillating at ±10 degrees

Maximum Single-Wheel Rise and Fall

22.6in
Brakes
Brakes

Meets ISO 3540:1996
Cab
Air Conditioning

Standard air conditioning system contains environmentally friendly R134a refrigerant

Cab - ROPS/FOPS

Cat cab with separate ROPS/FOPS is standard in North America, Europe and Japan.

Cab - ROPS/FOPS

SAE J11040 APR88, ISO 3471:2008, ISO 3471:1994

FOPS

FOPS meets SAE J231 JAN81 and ISO 3449:1992 Level II criteria.

ROPS

ROPS meets SAE J11040 APR88, ISO 3471:2008 and ISO 3471:1994 criteria.

Sound Performance

The dynamic operator sound pressure level is 71 dB(A) when ISO 6396:2008 is used to measure the value for an enclosed cab.

Sound Performance

The exterior sound pressure level for the standard machine measured at a distance of 15 m (49.2 ft) is 87 dB(A).

Sound Performance

Hearing protection may be needed when operating with open operator station & cab for extended periods or in noisy environment.

Sound Performance

The operator sound exposure Leq measured according to work cycle procedures specified in ANSI/SAE J1166 FEB08 is 71 dB(A).
Hydraulic System - Lift/Tilt
Cylinder, Double-acting: Lift, Bore and Stroke

177 mm × 1760 mm (0.58 ft × 5.8 ft)

Cylinder, Double-acting: Tilt and Tip, Bore and Stroke

267 mm × 286 mm (0.88 ft × 0.94 ft)

Output at 1,850 rpm and 6900 kPa (1,000 psi)

161.0gal/min

Relief Valve Setting - Lift (Large Pump)

3289.0psi

Relief Valve Setting - Tilt (Small Pump)

3560.0psi
Blades
Blade Capacities

25 to 45 m3 (33 to 58 yd3)
Hydraulic System - Ripper (Optional)
Cylinder, Double-acting: Lift, Bore and Stroke

184 mm × 454 mm (0.60 ft × 1.5 ft)

Main Relief Pressure

2800.0psi

Output at 1,850 rpm and 6900 kPa (1,000 psi)

56.0gal/min
Dimensions (Approximate)
Center Line of Front Axle to Hitch

9.66ft

Center Line of Rear Axle to Edge of Bumper

13.76ft

Center Line of Rear Axle to Edge of Ripper Mount

13.8ft

Departure Angle

14.0Degrees

Ground Clearance

27.0in

Height to Top of Exhaust Pipe

17.17ft

Height to Top of Hood

13.0ft

Height to Top of ROPS

18.34ft

Length with Blade and Ripper on Ground

51.2ft

Length with Blade on Ground

44.0ft

Maximum Ripper Depth

2.2ft

Maximum Ripper Raise

3.9ft

Wheelbase

19.3ft

Width Between Outside Tines

10.2ft

Width Between Tines

5.1ft
Equipment
Electrical

Alarm, back-up
Alternator, (150-amp)
Batteries, low maintenance
Deutsch & Amp Seal terminal connectors
ECM diagnostic connector
Ground level electrical disconnect
Ground level starting receptacle for emergency start
Lighting system, halogen (front and rear)
Lighting, access stairway
Starter, electric (heavy duty)
Starting and charging system (24-volt)

Operator Environment

Advisor display
Air conditioner and heater with automatic temperature control
Cab, sound suppressed, pressurized, rollover protective structure (ROPS/FOPS) Radio ready for (entertainment) includes antenna, speakers, and 1 x 12V converters (24-volt, 10 amp) for use with laptop/cell phone
Cigar lighter and ashtray
Coat hook
Electro-hydraulic tilt and lift control system locks
Heater and defroster
Horn, electric
Implement and steering lockouts
VIMS 3G monitoring system: - Action alert system, three category - Instrumentation, Gauges: Engine coolant temperature Fuel Level Hydraulic Oil Temperature Tachometer Transmission Gear Indicator Transmission Oil Temperature
Light, dome (cab)
Lunchbox and beverage holders
Mirrors, rearview (externally mounted)
Seat belt, retractable, 76 mm (3 in) wide operator and trainer seats
Seat, Cat Comfort (cloth) air suspension
STIC control system
Tinted glass
Wet-arm wipers/washer (front, rear, and corners), intermittent front wipers

Power Train

Air-to-Air After cooler (ATAAC)
Auto Idle Kickdown
Axle oil coolers (front and rear)
Brakes, fully hydraulic, enclosed, wet multiple disc service brakes and dry parking/secondary brake
Case drain filters
Delayed Engine Shutdown
Demand fan
Electric fuel priming pump
Engine Cat C32 ACERT
Ground level engine shutdown
Ground level fast fill fuel
Ground level transmission lockout
Ground level starter lockout
Idle Engine Shutdown
Precleaner, engine air intake
Next Generation Modular Radiator (NGMR)
Starting aid (ether) automatic
Throttle lock
Transmission, 533 mm (21 in) planetary, powershift with 3F/3R, electronic control
Venturi Exhaust Stacks

Other Standard Equipment

Autolube
Automatic bucket lift/tilt kickouts, electronically adjustable from cab
Bumper service center
Couplings, Cat O-ring face seals
Doors, service access (locking)
Emergency platform egress
Fenders, steel (front and rear)
Grouped hydraulic pressure ports
Guards, power train and crankcase
Hitch, drawbar with pin
Hoses, Cat XT and XT-ES
Hydraulic oil cooler
Impeller clutch
Implement and steering ecology drains
Mufflers, under hood
Oil sampling valves
Piston pump case drain filters
Electro-hydraulic blade controls
Product Link™
Service center with ground level electrical and fluids service center
Sight gauges: - Coolant level - Implement oil level - Steering oil level - Transmission oil level
Starter lockout, bumper
Stairway, left and right rear access
Steering, load sensing
Toe kicks
Transmission lockout, bumper
Vandalism protection caplocks
Windshield cleaning platforms
Venturi Stack

Tires, Rims, And Wheels

A tire must be selected from the mandatory attachments section. Base machine price includes a tire allowance.

Antifreeze

Premixed 50 percent concentration of extended life coolant with freeze protection to 34° C (-29° F)
Optional Equipment
Blades

Semi-U - 25.4 m3 (33.1 yd3)
HD Semi-U - 25.4 m3 (33.1 yd3)
Coal - 44.7 m3 (58.2 yd3)

Electrical

10A converter
HID lights
Object Detection
Rear vision camera
LED strobe warning beacons

Operator Environment

AM/FM/CD/MP3 radio
Cab precleaner
Sirius/USB/Bluetooth Radio
Sun Screen

Starting Aids

Engine coolant 120V heater
Engine coolant 240V heater

Special Arrangements

Ripper attachment (3 shank)

Machine Control And Guidance

CAES attachment ready option

Miscellaneous Attachments

Arctic Antifreeze for protection to -50° C (-58° F)
Diagnostic lines
Roading fenders
Interested In This Product?