415 Backhoe Loader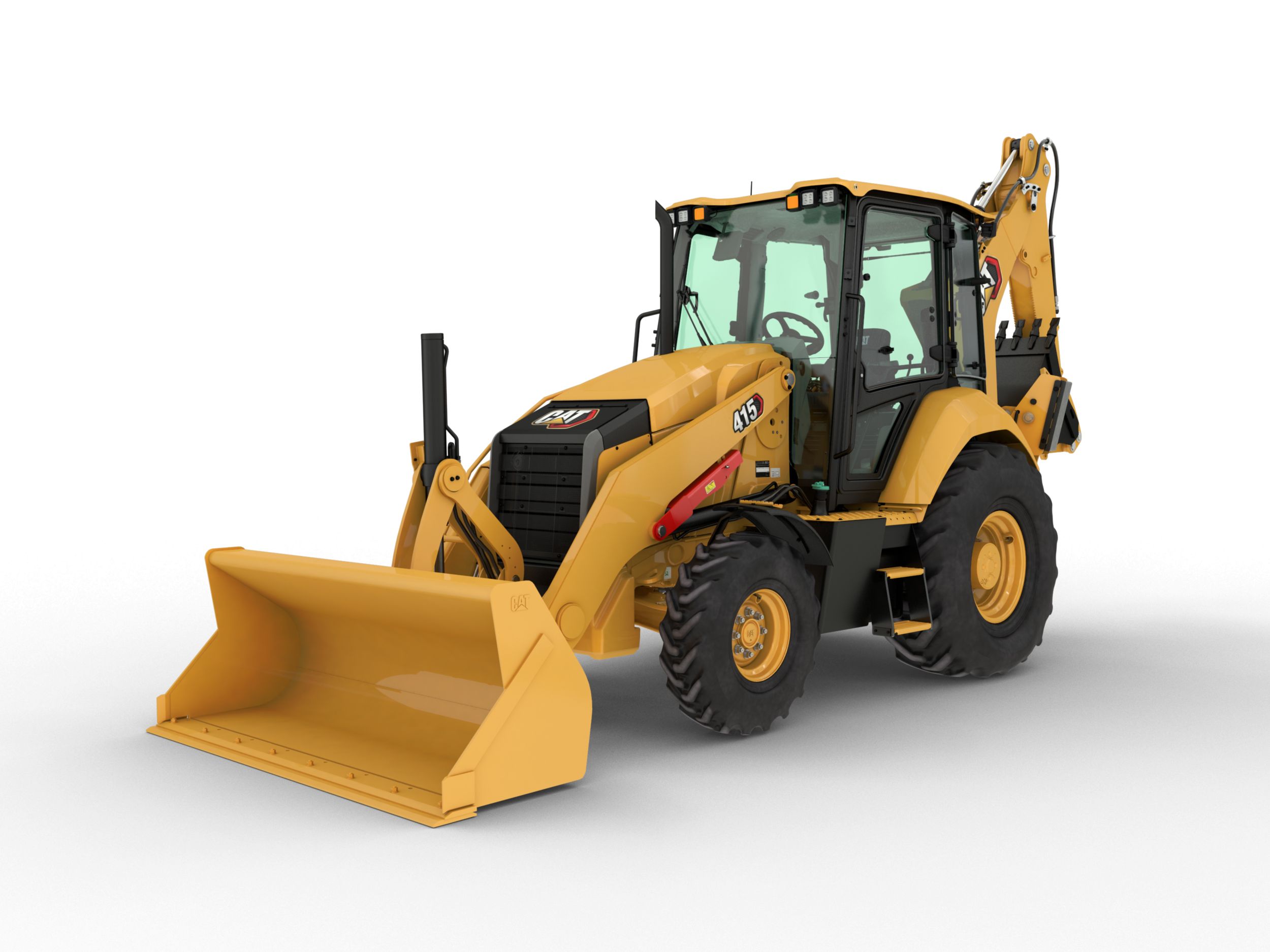 415 Backhoe Loader
Learn More About This Piece of Equipment
Steering
Turning Circle - (inner wheel not braked) - Outside Front Wheels

26.92ft

Turning Circle - (inner wheel not braked) - Outside Widest Loader Bucket

35.25ft

Stroke

4.2in

Bore

2.6in

Type

Front Wheel Steering

Power Steering

Hydrostatic

Rod Diameter

1.6in

Axle Oscillation

11°

Cylinder

One Double-Acting
Engine
Net Power - SAE J1349

70HP

Displacement

220in³

Emissions

Engine meets U.S. EPA Tier 4 Final/EU Stage V emission standards.

Net Power Rating at 2,200 rpm - SAE J1349

70HP

Net Power Rating at 2,200 rpm - ISO 9249

69HP

Power Rating Conditions - No De-Rating Required Up To

10000ft

Net Torque Rise - 1,400 rpm - SAE J1349

308ft-lb

Ratings at 2,200 rpm - Gross Power ISO 14396

74HP

Net Torque Rise - 1,400 rpm

85%

Ratings at 2,200 rpm - Gross Power SAE J1995

75HP

Engine Model

C3.6 55 kW (74 hp) Electronic Turbo Intercooled

Net Peak Power Rating @ 2,200 rpm - ISO 9249

71HP

Dimensions - Bore

3.86in

Net Peak Power Rating @ 2,200 rpm - SAE J1349

70HP

Dimensions - Stroke

4.72in
Weights
Operating Weight - Maximum

24251lb

Cab - ROPS/FOPS

306lb

Air Conditioning

99lb

Auto-Shift Transmission

269lb

MP Bucket (0.96 m3/1.25 yd3) - With Fold-Over Forks

2017lb

Operating Weight - Maximum - ROPS Capacity

24251lb

Operating Weight - Estimated*

16279lb

MP Bucket (0.96 m3/1.25 yd3) - Without Fold-Over Forks

1642lb

Ride Control

33lb

Note

*Machine configuration: standard stick hoe, OROPS canopy, 4WD standard shift transmission, 0.96 m³ (1.25 yd³) GP (General Purpose) loader bucket, 610 mm (24 in) standard duty hoe bucket, front 340/80-18 and rear 500/70-24 tires, 240 kg (530 lb) counterwei

Loader QC

540lb

Counterweights, base - Maximum

1014lb

Counterweights, base - Stackable, one

529lb

Counterweights, base

256lb

All-Wheel Drive

STD

Extendible Stick (excludes ft. counterweight)

613lb
Backhoe
Dig Depth - Standard

14ft
Transmission
Note

Travel speeds of backhoe loader at full throttle, when equipped with 500/70-24 rear tires.

Power-Shift Transmission - Optional - Forward - 4th

25mile/h

Power-Shift Transmission - Optional - Reverse - 3rd

17mile/h

Power-Shift Transmission - Optional - Forward - 2nd

5.8mile/h

Power-Shift Transmission - Optional - Forward - 3rd

12mile/h

Power-Shift Transmission - Optional - Reverse - 2nd

7.6mile/h

Power-Shift Transmission - Optional - Forward -1st

3.7mile/h

Power-Shift Transmission - Optional - Reverse - 1st

3.7mile/h

Power Shuttle Transmission - Standard - Forward - 3rd

13mile/h

Power Shuttle Transmission - Standard - Forward - 1st

3.4mile/h

Power Shuttle Transmission - Standard - Reverse - 4th

23mile/h

Power Shuttle Transmission - Standard - Forward - 2nd

5.7mile/h

Power Shuttle Transmission - Standard - Forward - 4th

23mile/h

Power Shuttle Transmission - Standard - Reverse - 1st

3.4mile/h

Power Shuttle Transmission - Standard - Reverse - 2nd

5.7mile/h

Power Shuttle Transmission - Standard - Reverse - 3rd

13mile/h
Axle Ratings
Front Axle, AWD - Static

51808lb

Front Axle, AWD - Dynamic

19841lb

Rear Axle - Static

58422lb

Rear Axle - Dynamic

22046lb
Hydraulic System
Pump Type

Variable-flow, Axial Piston

Type

Closed Center

System Pressure - Loader

3336psi

System Pressure - Backhoe

3336psi

Pump Capacity at 2,200 rpm

34.9gal/min
Service Refill Capacities
Hydraulic System

25.1gal (US)

Rear Axle - Planetaries

0.4gal (US)

Cooling System with Air Conditioning

4.8gal (US)

Rear Axle

4.2gal (US)

Hydraulic Tank

11.1gal (US)

Fuel Tank

42.3gal (US)

Engine Oil - With Filter

2.4gal (US)

Transmission - Power Shuttle - AWD

4.8gal (US)

Front Axle (AWD) - Planetaries

0.2gal (US)

Front Axle (AWD)

2.9gal (US)

Transmission - Power Shift - AWD

5gal (US)
Equipment
Standard Equipment

Air cleaner
Alarm, back-up
Audible system fault alarm
Backhoe controls, mechanical two lever
Battery, maintenance-free, 850 CCA
Battery disconnect switch
Boom transport lock
Brace, lift cylinder
Brake, parking, mechanical
Brakes, hydraulically boosted, oil disc, dual pedals, interlocking
Bucket level indicator
Canopy, ROPS/FOPS
Coat restraint
Coolant/antifreeze, extended life
Dome light (cab only)
Diagnostic port for engine
Differential lock, loader joystick
Drink holders, two
Engine, Cat C3.6 (Direct Injection Turbocharged), meets Tier 4 Final/Stage V emission standards, diesel particulate filter
Engine enclosure, sound suppression, removable side panels
Face seals, O-ring
Fan, suction and guard
Fast reversing shuttle, all gears
Fenders, rear
Filters, spin-on: fuel, engine oil, transmission oil, water separator
Filters, bowl and cartridge: hydraulic fluid
Flashing hazards/signal lights
Floor mat
Four wheel drive
Four wheel drive shaft guard
Fuel tank, fully enclosed
Fully hinged front grill for cooling package cleaning access
Gauge cluster: coolant temperature, fuel level, torque converter temperature, battery voltage
Ground level fuel fill
Halogen Lights, working (2 front, 2 rear)
High ambient cooling package
Hood lock, inside cab
Hydraulic hose, XT™
Hydraulic oil cooler
Hydraulic oil level sight gauge
Hydraulic valves, loader 2 function
Hydraulic valves, backhoe 4 function
Hydraulics, load sensing with variable displacement piston pump
Indicator lights: wait to start, water in fuel, engine warning, warning lamp, regeneration inhibited, low engine oil pressure; LCD warnings: machine locked, service due, air filter blocked, auto idle shutdown, high coolant temperature, high torque converter temperature, high exhaust temperature, engine oil life indicator
Instrument panel lights
Key start/stop system
LCD operator display with soft key controls: engine speed, hour meter, gear/direction, battery voltage, hydraulic oil temperature, torque converter temperature, coolant temperature, trip totals (fuel and hours), lifetime totals (fuel and hours), operator settings (units, brightness, programmable hoe auxiliary flow), service mode diagnostics, oil life reset, DPF force regeneration, maintenance intervals, ECM/system info
Loader, self-leveling, return-to-dig and transmission disconnect switch
Loader, single tilt
Mirror, interior, rearview
Open circuit breather
Power receptacle, 5 volt USB, 1 internal
Power receptacle, 12 volt, 2 internal, 1 external
Power steering, hydrostatic
Product Link™, cellular, network manager
Product Link, satellite, network manager
Seat belt, retractable, 51 mm (2 in)
Stabilizer shoes, street
Steering column, fixed
Steering knob
Seat, air suspension, vinyl cover, with armrest
Socket, two roof
Starting system, glow plugs
Steering, hydrostatic
Storage compartment, lockable
Storage tray
Stop and tail lights
Swing transport lock
Tires
Toolbox, external, lockable
Torque converter
Throttle, hand and foot, electronic
Transmission, four speed, manual, syncromesh
Transmission neutralizer switch
Transport tie-downs
Vandalism locks, three
Warning horn, electric
Optional Equipment
Optional Equipment

Auxiliary Hydraulics, rear, Adjustable Flow
Battery, additional, 850 CCA
Cab, standard
Cold weather fuel (–30° C/–22° F)
Cold weather package, including additional battery, engine block heater, radiator antifreeze (–50° C/–58° F), cold weather fuel (–30° C/–22° F) and mounting for an ether bottle
Counterweights, 115 kg (255 lb), 240 kg (530 lb) or 460 kg (1,015 lb)
Fenders, front with integral steps
Guard, boom protection plate
Guard, stabilizer, rock
Hydraulic valves, loader (3rd valve for MP or Quick Coupler)
Hydraulic valves, backhoe (5th and 6th function)
Hydraulic lines, combined function auxiliary
Joystick controls: pilot operated, excavator style with pattern changer
LED lights, working (2 front, 2 rear)
Pattern changer, in cab
Quick Coupler, hydraulic, dual lock
Quick Coupler, manual, dual lock
Quick Coupler, manual, pin lock
Radio and CD player, Bluetooth®
Ride Control
Rotating beacon, magnetic mount
Seat, air suspension, fabric with armrest
Seat belt, retractable, 75 mm (3 in)
Security system, Bluetooth
Security System, operator display
Side mirrors, cab, external
Single Tilt Loader Coupler, Integrated Tool Carrier (IT) Interface
Stabilizer pads, grouser type
Stabilizer pads, reversible
Steering column, tilting
Stick, extendible
Vandalism protection, gauge cover
Work Tool Attachments such as buckets, forks, material handling arms, augers, hammers, brooms, cold planers and vibratory plate compactors. See your Cat dealer for more information.
Interested In This Product?