725C2 Articulated Truck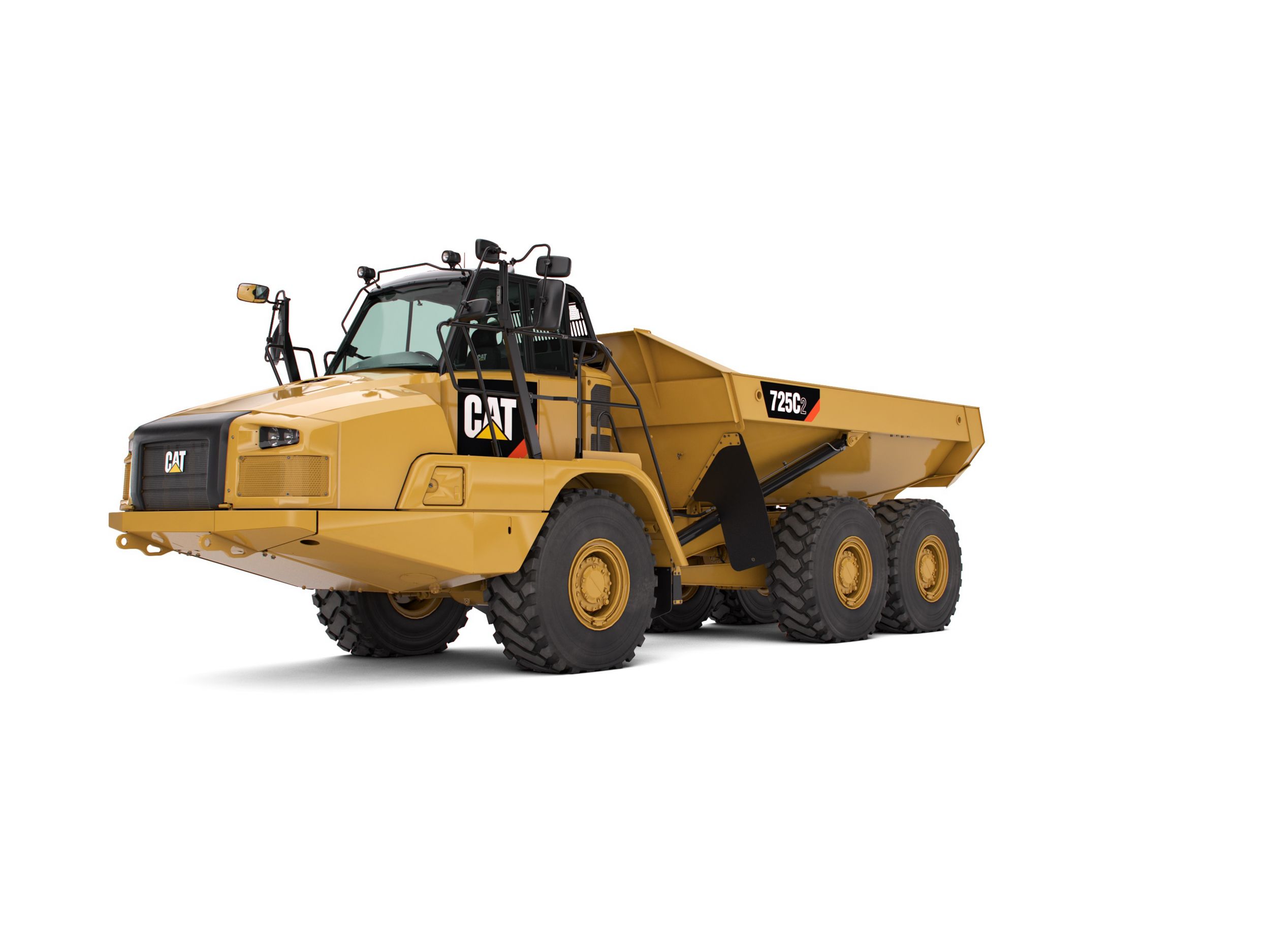 725C2 Articulated Truck
The Cat 725C2, with a 15 m3 (19.6 yd3) 24 tonnes (26.5 tons) capacity, offers proven reliability, durability, high productivity, superior operator comfort and lower operating costs. Updating the 725C to include all axle enclosed wet brakes and Automatic Traction Control makes the 725C2 the best option for our customers. Class leading levels of performance and operator comfort make for a productive machine all day long.
Learn More About This Piece of Equipment
Engine
Engine Model - U.S. EPA Tier 4 Final/EU Stage IV

Cat® C9.3 ACERT™

Peak Engine Torque Gross (SAE J1995)

1275ft·lbf

Peak Engine Torque Speed

1200r/min

Engine Model

Cat C9.3 ACERT

Bore

4.53in

Stroke

5.87in

Displacement

567in³

Gross Power - SAE J1995

320HP

Net Power - ISO 14396

316HP

Net Power - SAE J1349

314HP

No Engine De-rating Below

7500ft

Peak Engine Torque Net (SAE J1349)

1262ft·lbf

Emissions

The reference to Tier 4 Final/Stage IV includes U.S. EPA Tier 4 Final, EU Stage IV, Japan 2014 (Tier 4 Final), as well as Korea Tier 4 Final emission standards.

Note (1)

The power ratings apply at rated speed of 1,800 rpm when tested under the conditions for the specified standard.

Note (2)

The net power advertised is the power available at the flywheel when the engine is equipped with alternator, air cleaner, muffler and fan at minimum speed.

Note (3)

Net power when the fan is at maximum speed is 214 kW (287 hp) per the SAE reference conditions.

Note (4)

DEF used in Cat SCR systems must meet the requirements outlined in the International Organization for Standardization (ISO) standard 22241-1. ISO 22241-1 requirements are met by many brands of DEF, including those that carry the AdBlue or API certificatio
Weights
Rated Payload

26.5ton (US)
Body Capacities
Tailgate Heaped SAE 2:1

20.4yd³

Tailgate Struck

14.5yd³

Heaped (SAE 2:1)

19.6yd³

Struck

14.4yd³
Transmission
Reverse - 1

6mT/hr

Forward - 1

5mT/hr

Forward - 2

9mT/hr

Forward - 3

14mT/hr

Forward - 4

21mT/hr

Forward - 5

29mT/hr

Forward - 6

36mT/hr
Operating Weights
Front Axle - Empty

31835lb

Center Axle - Empty

9755lb

Rear Axle - Empty

9205lb

Total - Empty

50795lb

Front Axle - Rated Load

5512lb

Center Axle - Rated Load

23700lb

Rear Axle - Rated Load

23700lb

Total - Rated Load

52912lb

Front Axle - Loaded

37374lb

Center Axle - Loaded

33455lb

Rear Axle - Loaded

32905lb

Total - Loaded

103707lb
Service Refill Capacities
Hydraulic System

29.1gal (US)

Engine Crankcase

10gal (US)

Transmission

12.4gal (US)

Final Drives/Differential

33gal (US)

Output Transfer Gear Box

6.3gal (US)

Fuel Tank

108.8gal (US)

Cooling System

21.9gal (US)

DEF Tank

5.3gal (US)
Sound Levels
Interior Cab

76dB(A)

Note (1)

The operator sound exposure Leq (equivalent sound pressure level) measured according to the work cycle procedures specified in ANSI/SAE J1166 OCT98 is 76 dB(A), for the cab offered by Caterpillar, when properly installed and maintained and tested with the

Note (2)

Hearing protection may be needed when operating with an open operator station and cab (when not properly maintained or doors/windows open) for extended periods or in noisy environments.
Body Hoist
Raise Time

10s

Lower Time

8s
Standards
Cab - FOPS

ISO 3449 Level II – 2005

Cab - ROPS

ISO 3471 – 2008

Brakes

ISO 3450 – 2011

Steering

ISO 5010 – 2007
Steering
Lock to Lock

4.75 seconds @ 60 rpm
Turning Circle
Note

Dimensions are for machines equipped with 23.5R25 tires.

Turning Dimensions - Aisle Width

210in

Turning Dimensions - Clearance Radius

318in

Turning Dimensions - Inside Radius

153in

Turning Dimensions - SAE Turning Radius

294in

Turning Dimensions - Steer Angle - Left/Right

45°
Body Plate
Type

High strength Brinell HB450 wear resistant steel
Equipment
Dashboard Liquid Crystal Display (lcd):

Alert indicator, selected gear and direction, speed or auto shift, review Operation and Maintenance Manual (OMM), primary steering failure, seat belt warning, secondary steering failure, Machine Security System (MSS), secondary steering energy source engaged, hour meter and retarder active

Machine Operation Monitoring System Includes:

Action lamp, engine oil pressure, primary steering system, left turn signal, high beam, coolant temperature, tachometer, parking brake, fuel level, right turn signal, transmission oil temperature, brake system, transmission hold, hoist control, hydraulic system, charging system, retarder, transmission fault, traction control system, check engine lamp
Interested In This Product?